Avocado Dressing
This avocado dressing I put together for a taco salad craving day. I amazingly had on hand all the ingredients listed. I just added some left over taco meat I had frozen from a meal a few weeks prior.
Thawed the meat, made this easy salad dressing recipe, put all of it on a bed of lettuce with a few corn chips on the side.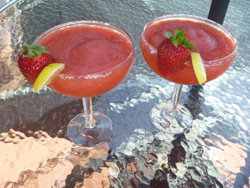 Serve with a pitcher of strawberry margaritas and whhaa-lahh, one easy fun dinner!
Avocado Dressing:
1 clove garlic, pressed or chopped
1 large avocado, peeled and pitted
1/2 cup salsa verde
1 Tbl lime juice
1/2 tsp salt
Pinch sugar
2 to 3 drops hot red pepper sauce
3 Tbl minced onion
1/4 cup sour cream
1 to 2 Tbls milk for desired consistency

Directions:
Prepare the guacamole style dressing. In a bowl add crushed garlic and peeled avocado. Mash with a folk. Add green salsa, lime juice, salt, sugar, hot sauce and mix. Gently mix in the onion and sour cream. Stir in milk, adding only what you need to get the desired consistency. The dressing is best if a little on the thicker side. Press the avocado pit into the center of the dressing, which will help retain the color. Cover and chill dressing until serving time.
Some Avocado facts: There are many varieties of avocados. Most common and my preference is the Haas avocado. Found year round in most supermarkets.
When selecting an avocado, feel if uniformly hard or soft with an unblemished surface. If it is hard, that means it needs to ripen a few days. Ripe fruit bruises easily in the stores and in transport. I feel it is best to ripen your own at home, Using a brown paper bag, ripen at room temperature 2 to 5 days away from direct sun. Once ripe, your avocados can be stored in the produce drawer of your refrigerator for 1 to 2 weeks.
---

Other Mexican Cooking Recipes
Bunuelos
Chicken Tortilla Soup
Chili con Carne
Chili Noodle Casserole
Chili Stuffed Burritos
Chilies Rellenos
Chimichangas
Mexican Corn Bean Dip
Dessert Empanadas
Enchilada Recipes (Beef, Chicken and Cheese)
Guacamole Dip
Layered Mexican Dip for Chips and Crackers
Mexican Pork
Mexican Salad
Pork Empanadas
Salsas including Enchilada and Picante Sauce Recipes
Tamales
Tortilla Pinwheels

Other Salad Dressing Recipes
Asian Salad Dressings
Blue Cheese Salad Dressing
Dijon Salad Dressings
Sun-dried Tomato Salad Dressing
---
Return from Avocado Dressing to Mexican Food Recipes

Return to Home Page Cooking Recipes Collection