Asian Salad Dressing
The Asian salad dressing is surprisingly easy to make and will keep longer in the refrigerator since it is oil and vinegar based.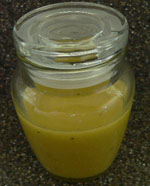 I suggest whipping up a batch to keep in the frig as it is much better after a day or two giving flavors time to blend and infuse with the oil. I store in jars that have a tight fitted lid.
Try any of these dressings on cabbage salads or chicken salad. My favorite is the Asian Vinaigrette on romaine lettuce with chunks of chicken. So simple and easy to make for quick lunch.
---
Asian Vinaigrette Salad Dressing
Ingredients:
2/3 cup Canola Oil
1/4 cup Red Wine Vinegar
1/3 cup Soy Sauce
3 Tbl Toasted Sesame Oil
1 Tbl Honey

Directions:

Put all ingredients into a shaker to blend. Put in refrigerator until ready to serve over a salad. It is Best if made at least one hour before serving.
---
Asian Ginger Salad Dressing
Ingredients:
3 cloves garlic, minced
2 Tbl minced fresh ginger root
3/4 cup olive oil
1/3 cup rice vinegar
1/2 cup soy sauce
3 Tbl honey
1/4 cup water

Directions:

In a shaker or jar with tight fitting cover, combine the garlic, ginger, olive oil, rice vinegar, soy sauce, honey, and water and shake well. Remove lid, and heat jar in the microwave for 1 minute just to dissolve the honey. Let cool and store covered in the refrigerator. Shake well before serving.

---
Quick and Easy Chinese Chicken Salad Dressing
Ingredients:
1/4 cup rice wine vinegar
1/4 cup brown sugar
2 Tbl dark soy sauce
1 Tbl red chili sauce
2 tsp fresh grated ginger
1/2 grape seed oil

Directions:

Put ginger, rice wine vinegar, brown sugar and soy sauce in a medium mixing bowl and whisk together. Whisk in chili sauce, avoid any lumps. Add the grape seed oil, whisking again to incorporate oil into vinegar mixture. You will need to shake or mix the dressing again immediately before serving. Pour over bed of lettuce with diced chicken breast, grated and diced vegetables.
---

Other Salad Dressings
Blue Cheese Salad Dressings
Dijon Salad Dressings
Italian Salad Dressings
Ranch Salad Dressings
Sun-Dried Tomato Dressing
Vinaigrette Salad Dressings
---
Return from Asian Salad Dressing to Salad Recipes