Delicious tasting
Easy Salad Recipes
to make a meal complete
I have included Easy Salad Recipes for lettuce salads, pasta salads, potato salad, cabbage salads, jello salads. I do not know anyone that does not like salad, in one form or another. You name it....

there is such a large variety, you could say there is a salad for every one.
My personal favorite is any salad greens and load it up with all sorts of chopped veggies, cheese, nuts and dried fruit with blue cheese dressing. Tom thinks I am nuts since his favorite is so simple. Iceberg lettuce wedge with crumbled blue cheese and blue cheese dressing. All I say is "that's it!? No Veggies?"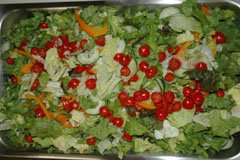 This basic easy salad recipe
is a fast and easy vegan recipe.
Three different lettuces and
a few chopped veggies and done.

Makes for a wonderful side dish for any meal.

To keep the lettuce fresh for a week, use a salad spinner to get all the moisture out. Put the washed spun lettuce in a tight sealing bag and keep in the refrigerator. Keep a separate bowl of chopped veggies and you have a quick and easy salad any day of the week. The chopped veggies do not last long so I only chop enough for a few days. Enough for the salads and enough for snacking during the day. It's easy to pack your brown bag lunch when chopped veggies are readily available.
This is healthy eating magic, if you have it in the frig ready to snack, you will make it so much easier to stay on track for a healthier lifestyle.
Included are Salad Dressing Recipes. Below are basic condiments and herbs to keep on hand that you need to make a variety of dressings.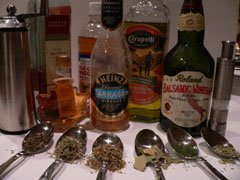 Herbs left to right: Basil, Rosemary, Oregano, Bay Leaf, Dill Weed, Tarragon
Of course there are plenty of other items you could keep on hand for various dressings, these are just the basics.
For getting the best flavor from spring salad mixes, add to spinach some greens that have flavor such as arugula, radicchio, watercress and endive. Check your produce aisle and get creative. Try adding sweet dried cranberries and feta cheese to the mix and lightly sprinkle on a homemade vinaigrette dressing for the perfect lunch salad.

You will find a Chutney dressing, with the right salad mixture is to die for. My sister-in-law from Georgia gave me this Chutney Spinach Salad recipe. She was visiting us in Wisconsin and made this delicious salad for us. If you try no other salad, you have to try this one, you will not be sorry.
---

Easy Salad Recipes
7 Layer Salad Recipe
Ambrosia Fruit Salad
American Potato Salad
Apple Taffy Salad
Caesar Salad
Chutney Spinach Salad
Curry Turkey Salad
Jello Icecream Salad
Mexican Taco Salad
Roasted Pear Spinach Salad
Southwest Potato Salad
Strawberry Spinach Salad
Sunflower Coleslaw Salad
Taffy Apple Salad
Waldorf Salad Recipe



SALAD DRESSINGS
Asian Salad Dressings
Avocado Salad Dressing
Blue Cheese Salad Dressings
Dijon Salad Dressings
Italian Salad Dressings
Ranch Salad Dressings
Sun-Dried Tomato Dressing
Vinaigrette Salad Dressings
---

Return from Easy Salad Recipes to Cooking Recipes Collection