Corn Bean Dip
Putting together easy appetizers doesn't get any easier than this Corn Bean Dip from Ann, sister of my good friend Mary.
Had it while watching Packer game at Mary's. Great blend a flavors and the dressing is perfect. A very simple appetizer to prepare for game day munchies.
Good food with good friends makes for a great time.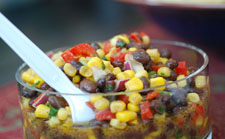 Ingredients:
1 can pinto beans
1 can black eyed peas
1 can black beans
1 can shoepeg corn
1 medium onion, diced
1 cup diced celery
1 cup diced green pepper
1 jar diced pimento

Mix all together in medium size bowl.
Dressing
1/2 cup oil
3/4 cup cider vinegar
1 cup sugar
1 tsp salt
1/2 tsp pepper

Mix together in medium pot and bring to a boil and pour over bean mixture.
Chill. Drain before serving.
Tip:
Serve with Frito Lay Scoops. Tastes the best and your able to pick up lots of the dip.

---

Other Appetizer Recipes
Artichoke Spinach Dip
Artichoke Squares
Baked Stuffed Mushrooms
BBQ Chicken Wings
Bruschetta
Buffalo Chicken Wings
Cajun Shrimp
Cheesy Crackers
Chicken Strips
Hot Chicken Dip
Louisiana Pork Riblets
Mexican Dip
Party Cheeseball
Pizza Roll Ups
Salmon Lox
Spanakopita
Stuffed Eggs
Tapenade with Kalamata Olives
Tortilla Pinwheels
Veggie Pizza

Check out Mexican Food Recipes that will go great with this Corn Bean Dip.
---

Return from Corn Bean Dip to Appetizers

Return to Home Page Cooking Recipes Collection