Enchilada Recipes
These Enchilada Recipes can be served with Spanish rice and re-fried beans. And then to top off the meal, check out my Mexican Dessert recipes page.
I have to admit these easy Mexican cooking recipes can be addicting. I always make extra sauce for leftovers. A little extra sauce spread over the enchilada during the reheating helps keep them moist and flavorful.
Beef Enchilada Recipe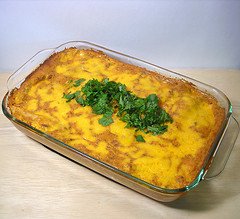 Ingredients:
1 large Onion, chopped
2 cloves Garlic, chopped
1 lb lean ground beef
1/2 cup beef broth
1 small can mild chopped green chilis
1 tsp cumin
1 tsp cilantro or coriander
1 tsp paprika
2 tsp chili powder
1/2 tsp black pepper
2 cups Grated Cheddar Cheese
6 Large flour tortillas

Enchilada Sauce Recipe:
1/2 stick butter
1 tsp paprika
2 tsp chili powder
2 Tbl flour
1 cup beef broth
1/4 tsp black pepper
1 tsp cumin
1/2 tsp cilantro

Directions:
Brown ground beef, add the onion and garlic. Cover and cook until onion is tender.
Add the can green chili, cumin, cilantro, paprika, chili powder, black pepper. Cook a few minutes to blend. Meat should be just moist, add beef broth as needed.
Remove from heat and transfer meat to a bowl, cover and place in refrigerator to cool slightly. When cooled, mix in 1 cup of the cheddar cheese. Save the other cup for topping off the finished enchiladas.
Making the Sauce, use the same pan to melt butter, stir in paprika, chili powder and flour. Add beef broth, pepper, cumin and cilantro, cover and simmer for 10-20 minutes to blend flavor and thicken sauce .
Prepare to roll the enchiladas by making an assembly line. Have warm Sauce, a clean plate for filling and rolling the tortillas on and a 9x13 baking pan that has ladle of sauce covering the bottom.
Take your tortilla and dredge through the sauce. Lay the soaked tortilla on a plate, put about 2/3 cup of meat mixture on tortilla and roll. Carefully pick up rolled tortilla and place in prepared pan. Continue until pan is full. Do not pack the enchiladas too tight in the pan as they will expand during the baking.
Sprinkle with cheese. Spoon remaining sauce on each enchilada, about a tablespoon on each. Bake at 350° for 30 minutes.
---
Chicken Enchilada Recipe
Ingredients:
2 chicken breasts
2 cups chicken broth
1/2 tsp garlic powder
1/2 tsp cumin
1/2 tsp celery salt
1/2 tsp onion powder
1/4 cup chopped scallion onion
1/4 cup chopped black olives
2 cups shredded cheese (sharp cheddar and Monterey Jack)
19 oz Enchilada Sauce
10 8 inch Tortillas
Sour Cream

Directions:
Bring 2 cups broth to boil in medium pot. Add spices and chicken breast return to boiling. Cover, reduce heat, simmer for about 25 minutes until chicken is cooked. Set chicken on a plate to cool then shred both breasts.
Combine in bowl, shredded chicken, chopped onion, chopped olives and 1/2 cup shredded cheese, 1/3 cup enchilada sauce.
Prepare a 9x13 size baking dish with about 2/3 cup enchilada sauce. Enough to cover the bottom of the dish.
In a non stick pan, heat tortillas. Place heated tortilla on a plate and put about 1/2 cup or so of the chicken mix in the middle. Roll up and put into prepared dish. Continue till dish is full. Pour the remaining sauce over and Sprinkle the remaining shredded cheese down the middle of the rolled tortillas.
Bake at 350° for 30 minutes. Place enchilada on serving platter, top with sour cream.
Suggestions for additional toppings: shredded lettuce, chop tomatoes, chopped green chili's, chopped jalapeño peppers, addition olives and cheese, your favorite salsa.
---
Cheese Enchilada Recipe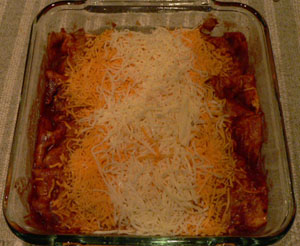 Ingredients:
4 corn tortillas
12 oz shredded cheddar cheese
1/2 cup chopped onion
2 cups enchilada sauce
1/4 cup chopped green onions
1/2 cup sour cream
vegetable oil

Enchilada Sauce:
3 T chili powder
3 T flour
1 tsp cocoa powder
1/2 tsp garlic
1 tsp oregano
3 cups water
8 oz can tomato sauce

Directions:
First step make the sauce. In a bowl, Mix all ingredients for sauce adding water slowly stirring until no longer lumpy. Pour into sauce pan and bring to gently boil. Continue to boil until thickened.
Next step prepare the tortillas. Heat vegetable oil in skillet. Start by heating tortilla on dry skillet, with a tongs, flip in hot vegetable oil bath, two to three seconds on each side. Tortillas should be soft and easy to work with. The oil will keep the tortilla from cracking when you start rolling the tortillas.
Filling the tortillas with cheese and onion, roll and place in baking dish. Cover each rolled tortilla completely with plenty of sauce and sprinkle each with cheese. Bake at 350° for 5-10 minutes to heat and melt cheese.
Transfer finished enchiladas to a serving dish and garnish with chopped green onions and dab of sour cream.
---
Become part of my recipe collection by sharing your enchilada recipes.
Share Your Recipe Submission Form
Do you have a great recipe and would like to share it! Or maybe you have tried a recipe and made your own personal changes to it. Please share your ideas, it is what keeps cooking fun.

I am always looking for new recipes to try. I welcome you to share your favorite recipe and become a part of my site with your very own page.
---

Other Mexican Cooking Recipes
Avocado Salad Dressing
Bunuelos
Chicken Tortilla Soup Recipe
Chili Con Carne
Chili Noodle Casserole
Chilies Rellenos
Chili Stuffed Burritos
Chimichangas
Corn Bean Dip
Dessert Empanadas
Guacamole Dip
Layered Mexican Dip
Mexican Pork
Mexican Salad
Pork Empanadas
Salsa, Enchilada and Picante Sauce Recipes
Tamales
Tortilla Pinwheels

---
Return from Enchilada Recipes to Meat Recipes

Return to Home Page Cooking Recipes Collections