Meat Recipes
with Beef, Pork and Lamb
I use many different methods of
cooking in my collection of meat recipes.

In the following meat recipes you will find some Quick and Easy Recipes to give you some dinner ideas for your meal tonight. Tom & I are empty nesters so you will find dinner for two and many of the recipes can be modified for two.
I love cooking and one of the ways is with a crock pot. You will find a nice selection of recipes such as Crock Pot Lamb. Enjoy the savory flavors of lamb being cooked in a garlic and tomato base. We cook with a crock pot often, owning 4 of various sizes to be able to meet any need.

We are both golfers and it works perfect for a dinner after spending the day on the course. Not to mention the money savings not eating out after every round. In fact cooking with a cock pot is economical in other ways also, like buying a cheaper cut of meat and using less electricity than the conventional way.


Another of my favorite ways of preparing a meal is slow roasting in the oven.
One of Tom's favorite meals is roast beef dinner. We have it quite often and end up the next day with some nice leftovers. Which is perfect for making roast beef sandwiches with a little horseradish sauce on it. And again, slow roasting the meat you can buy the less expensive cuts of meat.
Here is a really delicious meal without a lot of fuss to do Greek cooking for a larger group. The Lamb and Noodles recipe, just add a salad and bread. Pair with a nice bottle of wine such as a Cabernet Sauvignon or Pinot Noir. Much can be done ahead of time which makes you free to visit with your guests.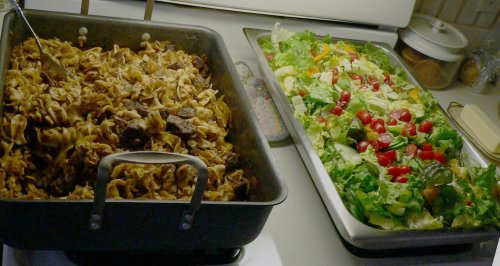 Have the butcher do prepping and cutting of the meats as much as possible to keep your work down to a minimum.

Such as cutting roast meat into pieces or having your prime rib properly trimmed and tied. Also have the butcher cut the prime rib roast along the bone before he ties it. It is such a nice touch and makes serving easier.

Great cooking isn't just done in the house.
Check out step by step instructions on grilling Prime Rib using indirect heat. You will also find other information and recipes for the barbeque smoker, gas grill or charcoal grill.
---

Beef Recipe Collection
Beef Bourguignon
Best Meatloaf Recipes (Italian, Mexican and Spicy Hot Turkey)
Chow Mein Bake
Enchilada Recipes (Beef, Chicken and Cheese)
Meatball Recipes (Italian, Swedish and Greek)
Pastichio (Greek Lasagne)
Roast Beef and Pot Roast Recipes

Pork Recipe Collection
Baked Pork Chops
Crock Pot Barbeque Ribs

Lamb Recipe Collection
Crock Pot Lamb
Dolmathes(Stuffed Grape Leaves)
Lamb and Noodles
---
Return from Meat Recipes to Cooking Recipes Collection