A Great Homemade
Soup Recipes Collection
These great Soup Recipes are the right
answer to any dinner dilemma.

Homemade, easy and very nutritous.


Make one of these homemade soup recipes after a fun day of enjoying the cold outdoors during the long winter months. Nothing else will take the chill out of you better.


Living in the upper Midwest most my life, the winter days are cold and snowy and there is nothing better than a nice warm bowl of soup or a hot cup of chili to warm you up after a fun day of ice skating or playing hockey.


A delicious pot of soup is fun, uncomplicated to make, and very satisfying to eat.


Make a homemade vegetable soup with those not so fresh veggies sitting in your refrigerator. Or did you make coleslaw and have a half head of cabbage just sitting there. Whalla! Chop it up and make a Cabbage Soup.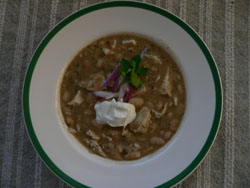 I love making

homemade soups

and my homemade chili

recipes are the best.

Also look for the

hearty stew recipes.
The potato soup is my mothers recipe. She made it quite often as it was economical and would feed our large family. I am one of eight kids and I learned a lot of tricks from my mother, like how to keep in a budget when it came to cooking.
The recipes that follow will give you some interesting and delicious meals. Look for tips and short cuts at the end of many of the recipes.
---

Soup Recipes
Black Bean Soup
Chicken Tortilla Soup Recipe
Chicken Noodle Soup
Chili Recipes
Chili Con Carne
Clam Chowder Soup Recipes
French Onion Soup Recipe
Potato Soup Recipes
Roasted Red Pepper Tomato Soup
Vegetable Soup Recipes
Wild Rice Soup
---
Share Your Recipe Submission Form
Do you have a great recipe and would like to share it! Or maybe you have tried a recipe and made your own personal changes to it. Please share your ideas, it is what keeps cooking fun.

I am always looking for new recipes to try. I welcome you to share your favorite recipe and become a part of my site with your very own page.
---
Return from Homemade Soup Recipes to Cooking Recipes Collection