Sauce Recipes



Including Salsas, Enchilada and Picante Sauces
The Sauce Recipes section of my site was created to add to your enjoyment of food.


Making a good sauce is a special addition to your meal making a simple dish more savory. I believe it is essential to your cooking knowledge to know how to make a basic White as well as a Brown Sauce.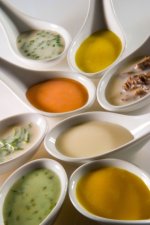 Sauces will compliment any meal
and make it extra special

Be it a full dinner with a nice steak or roast to a sandwich with just lunch meat and cheese. Try my Creamy Mustard Sauce on your next ham sandwich, or any one of the quick and easy to top a serving of vegetables.

Many of these sauces can be used on a variety of different dishes. I have included with the some of the recipes suggestion on some of the dishes to use the particular variety on. You may come up with your own ideas once you taste them.
Sure you could buy any one of these sauces at the grocery story, but will it be as good?
I find that I eventually end up throwing most of it away. It's either gone out of date by the time you use it again or it just didn't taste that great to begin with.
I like to make my own sauces so I can make what I need, when I need it. You have no waste and the flavor is so much better since you are preparing it to your own tastes with spices and herbs.
---

Salsas and Sauce Recipes:
Basic White Sauce, French Butter Sauce and Velouté Sauce, including how to video
Blue Cheese Dipping Sauce
Chili Sauces
Creamy Dill Sauce
Creamy Mustard Sauce
Curry Mayonnaise Spread
Horseradish Sauce
Quick and Easy Sauces
Salsa, Enchilada and Picante Recipes
Seasoned Tomato Sauce
Seafood Sauce
---
From Sauce Recipes to Cooking Recipes Collection