Salsa Recipes
Enchilada and Picante Sauces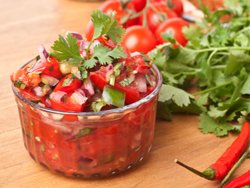 When making homemade salsa recipes, I prefer to use fresh tomatoes if possible. The easiest way I know how to peel a tomato is to place them in pot of boiling water until skin splits open. Immediately run under cold water to stop the cooking process. The skin will now easily come off of tomato.
Keep in mind when working with any type of Mexican peppers wear rubber gloves and don't rub your eyes, the liquid from the peppers will burn you eyes or any cuts on your fingers for hours in not a whole day. Speaking from experience here.
Salsa Recipes
Delicious, fresh, healthy homemade salsa!
Ingredients
4 medium Tomatoes, chopped
1 cup Onions, chopped
6 Garlic clove, pressed
1 lime, juiced
2 tbsp Fresh chopped Cilantro
Dash Salt
1/2 cup chopped Green Chili Peppers

Directions:
First, the ingredients must be fresh. Find a pepper that is the right amount of heat for your liking and taste.
Chop onions, garlic, pepper, and tomatoes. Combine in a glass bowl and add fresh cilantro, salt, and lime to taste.
Refrigerate over night.

---
Green Chili Salsa Recipe



Tomatillos, known as Mexican husk tomatoes, are what make up this green salsa. You can just remove the outer husk, no need to peel or seed them. I like to roast the peppers under the broiler to give them a wonderful flavor. Making salsa verde will compliment your Mexican cooking and can be served with a meal, appetizers or snack.
Ingredients:
10 medium tomatillos
3 to 6 medium serrano chilies or
2 or 3 large fresh Anaheim chile pepper
3 cloves unpeeled garlic
1 medium onion, quartered
13 sprigs of cilantro
1/2 tsp ground cumin
1 tsp seasalt
juice of 1/2 lime

Directions:
With oven rack at the top position, preheat the broiler.
Peel the papery husks off the tomatillos and wash thoroughly. Cut in half with a knife and place on a foil lined pan that has an inch lip.
Place the tomatillos, chiles and garlic on the lined baking sheet and put under broiler to roast getting a char evenly on both sides. Once charred, fold up foil ends to make a tent and let sit on top of oven for few minutes, then run under cold water to remove excess char.
Put roasted items in blender, including the juice that formed in the pan. Add onion, cilantro and cumin. Pulse chop into a coarse texture. Squeeze lime into salsa and add salt to taste.
Serve with tacos, quesadillas and tortillas. Or serve as a snacks with your favorite corn chips,
I recommend making salsa a day before serving to give the flavors plenty of time to blend. Stored in the refrigerator with a tight fitting lid, the salsa will last about 2 weeks. After that it will begin to loose its nice green color.
---
Salsa Dip
Great with corn chips or putting on a taco salad with shredded chicken or taco meat. This is one of those salsa recipes you can be creative with. Add or change any ingredient to your own liking.

Makes 6 cups
Ingredients

1 15oz can corn
1 15oz can Black Beans
1 4oz can Green Chili
1/4 cup Sliced Olives
1/4 cup Chopped Onions
1/2 chopped Sweet Yellow Bell Pepper
1/2 cup chopped fresh Tomato
1/2 tsp Garlic powder
1/2 tsp Paprika
1/2 tsp Cayenne
1/2 tsp Chili Powder
1/4 cup lime juice or to taste
Use any Hot sauce to your taste

Mix all ingredients and store in refrigerator until ready to serve.

---
Enchilada Sauce
Makes 2 cups

Ingredients
3 tablespoons olive oil
1 tablespoon flour
4 Tbl Chili Powder
2 cups chicken broth
10 ounces tomato paste
1 tsp ground cumin
1 Tbl garlic powder
3/4 tsp salt
1 pinch ground cinnamon
1 Tbl sugar

Directions:
In a sauce pan over low heat combine olive oil, flour, and chili powder to make a paste, smoothing and stirring with a wooden spoon. Cook for 1 minute. Add the chicken broth slowly, stirring constantly to keep a smooth consistency. Add tomato paste, garlic powder, cumin, salt, cinnamon and sugar.
Keep stirring to blend spices completely until it comes to a boil, reduce heat to low and cook for 20 minutes. The sauce will thicken and smooth out. Adjust the seasonings to your liking. Serve over your favorite enchiladas.
This enchilada sauce recipe is very quick to make.

---
Picante Sauce
Makes 2 cups
Ingredients:
1 large Roasted garlic clove, mashed
4 medium-sized ripe tomatoes, skinned
2/3 cup finely chopped onion
1/4 cup white-wine vinegar
2 tablespoons seeded and chopped jalapeno
1/2 teaspoon salt
1/4 teaspoon sugar
2 tablespoons fresh cilantro, crushed

Directions:
To roast garlic, cook in a small dry skillet over medium heat, turning, until charred and garlic is softened, 12 to 15 minutes. Peel and mash.
Peel the tomatoes using the hot water bath method I talk about above, placing tomatoes in pot of boiling water until skin splits open, then immediately run under cold water to stop the cooking process.
In medium sauce pan add garlic, tomatoes, onion, vinegar, jalapeno, salt and sugar and bring to a boil, breaking up tomatoes with the back of a wooden spoon. Reduce heat and simmer 10 to 12 minutes, stirring occasionally. Transfer to a bowl and cool to room temperature. Add fresh cilantro.


---

Other Mexican Recipes
Bunuelos
Chili Con Carne
Chilies Rellenos
Chimichangas
Mexican Dip for Cracker and Chips
Echilada Recipes (Beef, Chicken and Cheese)
Tortilla Pinwheels



Other Sauce Recipes
Basic White Sauce and Veloute Sauce
Blue Cheese Dipping Sauce
Chili Sauce
Creamy Dill Sauce
Creamy Mustard Sauce
Curry Mayonnaise Sauce
Horseradish Sauce
Quick and Easy Sauces
Seafood Sauce
---
Share Your Recipe Submission Form
Do you have a great recipe and would like to share it! Or maybe you have tried a recipe and made your own personal changes to it. Please share your ideas, it is what keeps cooking fun.

I am always looking for new recipes to try. I welcome you to share your favorite recipe and become a part of my site with your very own page.
Recipes Other Visitors Have Submitted
Click below to see Recipes from other visitors to this page...

Bill's Salsa Recipe Not rated yet
My salsa recipe came from a trip we made to Ensenada De Todos Santos, which means "All Saints Cove", Mexico more then 20 years ago to get lobster and shrimp …
---
Return from Salsa Recipes to Sauce Recipes

Return from Salsa Recipes to Cooking Recipes Collection