Guacamole Dip
When making Mexican recipes for dinner, snack or appetizer don't forget this wonderful guacamole dip recipe. Jan made this tasty dip for a party. The added bacon crumbles adds such a great flavor.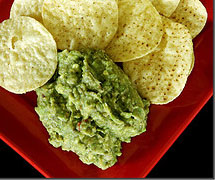 by: Jan McCormick
Ingredients:
4 avocado, peeled, pitted (save a pit)
1 large onion, diced
1 large tomato, diced
4 Tbls mayonaise
2 Tbls lemon juice
1/2 tsp garlic salt
2 tsp chili powder
2 tsp olive oil
4 tsp cumin
tabasco sauce to taste
5 slices fried bacon, crumbled

Directions:
In a medium size bowl, mash avocado. Add the remaining ingredients and stir until well mixed. Put pit in center and cover. Refrigerator for an hour before serving for flavors to blend.
Serve with corn chips, spoon on a bed of lettuce, or use for dipping quesadillas into.
Suggestion: To keep the Guacamole Dip the nice green color, store the dip with the avocado pit stuck in center and cover tightly. The acid from the lemon will also help it to keep a nice green color.
Some Avocado facts: There are many varieties of avocados. Most common and my preferred is the Haas avocado. Found year round in most supermarkets.
When selecting an avocado feel if uniformly hard or soft with an unblemished surface. If it is hard, that means it needs to ripen a few days. Ripe fruit bruises easily in the stores and in transport. I feel it is best to ripen your own at home, using a brown paper bag. At room temperature 2 to 5 days away from direct sun. Once ripe, your avocados can be stored in the produce drawer of your refrigerator for 1 to 2 weeks.
Whats your favorite Guacamole recipe?
Share Your Recipe Submission Form
Do you have a great recipe and would like to share it! Or maybe you have tried a recipe and made your own personal changes to it. Please share your ideas, it is what keeps cooking fun.

I am always looking for new recipes to try. I welcome you to share your favorite recipe and become a part of my site with your very own page.
---

Other Mexican Recipes
Avocado Salad Dressing
Bunuelos
Chicken Tortilla Soup Recipe
Chili Con Carne
Chilies Rellenos
Chili Noodle Casserole
Chili Stuffed Burritos
Chimichangas
Corn Bean Dip
Dessert Empanadas
Enchilada Recipes (Beef, Chicken and Cheese)
Mexican Layered Dip
Mexican Pork
Mexican Salad
Pork Empanadas
Salsa, Enchilada and Picante Sauce Recipes
Tamales
Tortilla Pinwheels
---
Return from Guacamole Dip to Mexican Food Recipes

Return to Home Page Cooking Recipes Collection