Poultry Recipes
My poultry recipes collection includes
Chicken, Turkey and Cornish Game Hens.
Whats that you say??? Oh no... not more chicken recipes.
Everywhere you look you see a recipe for chicken cooked this way or that way. But think about it, so many people are watching what they eat and first choice for dinner they look at is chicken.
Having a good variety in your collection of recipes makes sense.
If you have chicken several times in a week, you need a variety of flavors and methods of cooking to keep the family from getting bored. Dress up your chicken with one of the wonderful sauce recipes.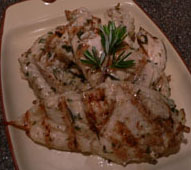 Light up the barbeque
and make any one of the grilling recipes
for chicken like delicious
Grilled Chicken Breast
with a hint of rosemary or
the Sweet and Sour Grilled Chicken
You will find a wide variety to please the family like the Chicken Enchilada recipes, or the Italian Chicken Recipes which can be served with pasta or rice. Different methods of cooking and some tips and time savers when preparing many these poultry dishes.
Also included are Quick Easy Recipes for making work day meal planning.
---

CHICKEN
BBQ Chicken Wings
Chicken and Rice Dish
Creamed Chicken Recipes
Crispy Parmesan Chicken
Grilled Chicken Breast
Oven Roasted Chicken and Potatoes



TURKEY

CORNISH HEN, PHEASANT, DUCK
---

Return from Poultry Recipes to Home Page to Cooking Recipes Collection