Tortilla Pinwheels
These Tortilla Pinwheels are one of the most fun and easy Mexican recipes to make for a large group of people. They are always a big hit and disappear fast. Thanks to Pat T who gave me a copy of this recipe years ago.
Ingredients:
8 oz cream cheese, softened
1/2 cup sour cream
1 4oz can green chilies, finely chopped
1 4oz can black olives, finely chopped
1/2 cup green onions, finely chopped
1/4 tsp Worcestershire sauce
1/2 tsp Garlic Salt or to taste
1/2 tsp Season Salt or to taste
1 cup finely shredded cheddar cheese
5-6 Large 10 inch flour tortillas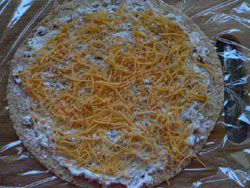 Blend thoroughly all except cheese and tortillas. Lay a tortilla on plastic wrap and spread mixture thinly over the entire tortilla. Sprinkle with cheese.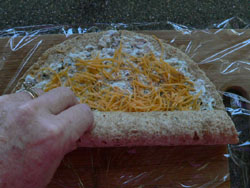 Roll up tightly and wrap the one roll with the plastic wrap. Continue until all filling is used up.
When all are done being filled, rolled and wrapped put the rolls in refrigerator until ready to serve.
This recipe will make from 5-6 rolls depending on how much mixture you use on each roll. They will keep up to 1 week in the refrigerator.
When ready to serve, cut the roll into 1 inch pieces and serve with a bowl of salsa or picante sauce for dipping or spooning onto each piece.
Try these wonderful Salsa or Picante Sauce Recipes to serve with the pinwheels.
---

Other Appetizer Recipes
Hot Artichoke Spinach Dip
Arichoke Squares
Baked Stuffed Mushrooms
BBQ Chicken Wings
Bruschetta
Buffalo Chicken Wings
Cajun Shrimp
Cheesy Crackers
Chicken Strips
Corn Bean Dip
Hot Chicken Dip
Louisiana Pork Riblets
Party Cheeseball
Pizza Roll Ups
Salmon Lox
Spanakopita (spinach pie and phyllo pockets)
Stuffed Eggs
Tapenade made with Kalamata Olives
Veggie Pizza

Other Mexican Recipes
Enchilada Recipes (Beef, Chicken and Cheese)
Mexican Dip
Salsa, Enchilada and Picante Sauces

---
Return from Tortilla Pinwheels to Simple Appetizer Recipes

Return to Home Page Cooking Recipes Collection