Chili Con Carne
My chili con carne recipe makes a generous amount of about 12 cups. Which is great for freezing in 2 or 3 cup size containers. Use in such recipes as Burritos and Taco Salad.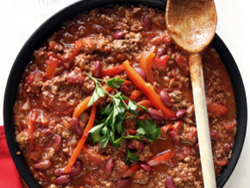 Ingredients:
1 lb dried pinto beans (2 1/2 cups)
2 quarts water
1 1/2 lb ground beef
1 large onion, chopped
2 cloves garlic, pressed
1 medium sized green pepper, seeded and chopped
2 - 16oz cans whole tomatoes
1 - 6oz can tomato paste
1 can condensed beef broth
3 Tbl Chili powder(or 2 Tbl ground chili pepper)
1 Tbl Ground Cumin
2 Tbl oregano
1 Tbl Masa Flour and 1 Tbl Salt

Directions:
Wash and sort beans. Soak overnight in water in a large saucepan. Next morning bring to boiling and simmer covered for 1 hour, stirring occasionally. Brown meat in a large pot. Add onion, garlic and green pepper. Drain fat from pot and add tomatoes including liquid, paste, broth, chile powder, cumin, oregano and salt. Stir breaking up tomatoes with wooden spoon, bring to a boil. Cover, reduce heat to simmer for one hour, stir occasionally and check that is is not sticking to the bottom. Add beans and 2 1/2 cups of the cooking liquid to the meat mixture. Stir, cover and simmer for 2 to 3 hours stirring occasionally until flavors are fully developed, sauce is thickened and beans are tender but not mushy. Serve chili con carne with corn chips and garnish with red pepper strips and sprig of parsely. I will also have on the side a bowl of chopped onion, grated yellow cheese, chopped jalapena peppers and sour cream to name a few.

---

Other Mexican Recipes
Avocado Salad Dressing
Bunuelos
Chicken Tortilla Soup Recipe
Chili Stuffed Burritos
Chili Noodle Casserole
Chilies Rellenos
Chimichangas
Corn Bean Dip
Dessert Empanadas
Enchilada Recipes (Beef,Chicken and Cheese)
Guacamole Dip
Mexican Dip
Mexican Pork
Mexican Salad
Pork Empanadas
Salsa Recipes, Including Enchilada and Picante Sauce Recipes
Tamales
Tortilla Pinwheels
---
Return from Chili Con Carne to Mexican Food Recipes

Return to Home Page Cooking Recipes Collection