Mexican Dip
Another great recipe from Jamie, this Mexican Dip is always a big hit with all the layers of fabulous ingredients. Get the stronger tortilla chips or corn chips so it will be easy to scoop up. A very simple appetizer to make.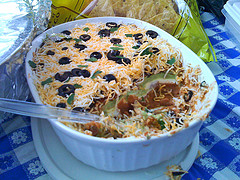 Ingredients:
1 can refried beans with chilies and onion
1 cup salsa or picante sauce
1 small –med onion, finely chopped
1 cup mayonnaise
1 cup sour cream
1 cup mashed avocado
1 cup shredded cheese
1 small can sliced black olives



Directions:
Spread bean in glass pie dish. Pour salsa or picante sauce over beans. Add chopped onion.
Blend mayonnaise and sour cream and pour over onions.
Sprinkle shredded cheese on top and top off with the sliced olives.
Serve with corn chips or tortilla chips.

---

Browse Other Appetizer Recipes
Artichoke Spinach Dip
Artichoke Squares
Baked Stuffed Mushrooms
BBQ Chicken Wings
Bruschetta
Buffalo Chicken Wings
Cajun Shrimp
Cheesy Crackers
Chicken Strips
Corn Bean Dip
Hot Chicken Dip
Louisiana Pork Riblets
Party Cheeseball
Pizza Roll Ups
Salmon Lox
Spanakopita
Stuffed Eggs
Tapenade with Kalamata Olives
Tortilla Pinwheels
Veggie Pizza

Other Mexican and Southwestern Style Recipes
Click this link for other Mexican Food Recipes
---
Return from Mexican Dip to Appetizers

Return to Home Page Cooking Recipes Collection