Bunuelos


Masa Harina Donuts
Bunuelos, a sweet dessert or a great snack. For some fun, try making these little Mexican donuts into different shapes to serve at a child's party instead of cookies.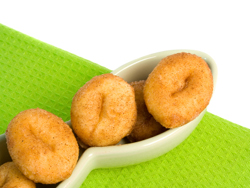 Ingredients:
1 1/2 cup flour
1 tsp baking powder
3 tablespoons sugar
1/4 cup butter
1 egg
1/4 cup milk
1/2 cup masa harina
3 tablespoons sugar for topping
1 teaspoon cinnamon for topping
oil for frying




Preparation:
For the topping, combine sugar and cinnamon in a lunch size brown paper bag, set aside.
Sift together the flour and baking powder. In a separate bowl, cream the sugar and butter until smooth. Add egg, milk and the masa harina. Gradually add in the flour until a dough forms.
Roll the dough into 1 1/2 inch balls or flatten them into cakes.
Heat oil in a medium pan until hot. Fry 6-7 minutes or until golden brown. Turning as needed with tongs.
Using the tongs, remove to a plate covered with a paper towel. Once slightly cooled place each piece in bag with sugar mixture and shake until well coated.
Serve warm.
---

Other Mexican Cooking Recipes
Avocado Salad Dressing
Chicken Tortilla Soup
Chili Con Carne
Chili Noodle Casserole
Chili Stuffed Burritos
Chilies Rellenos
Chimichangas
Corn Bean Medley Dip
Dessert Empanadas
Enchilada Recipes (Beef, Chicken and Cheese)
Guacamole Dip
Layered Dip for Chips and Crackers
Mexican Pork
Mexican Salad
Pork Empanadas
Salsas, also Enchilada and Picante Sauces
Tamales
Tortilla Pinwheels


Other Dessert Recipes
Baklava
Black Russian Cake
Cinnamon Rolls
HO HO Cake
---
Return from Bunuelos to Mexican Food Recipes

Return to Home Page Cooking Recipes Collection