Chicken Tortilla Soup Recipe
Make this easy soup recipe, Chicken Tortilla Soup Recipe, is sure to please the family. Made with spices to give it a Mexican soup flavor, topping it off with strips of crispy tortillas.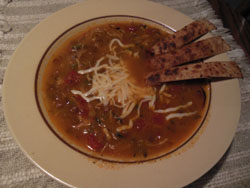 Ingredients:
1 Tbl Olive oil
1/2 cup chopped onion
1/2 cup chopped celery
2 cloves garlic
1 chicken breast  or 7.5 oz canned chicken
1 cans diced Tomatoes w/chilies
2 cups Chicken broth
1 tsp Cumin
2 tsp paprika
1 tsp cinnamon
2 Tbls Chili powder
1 cup black beans
1 cup lentils
2 tortillas, cut into strips and toasted
(optional)garnish with cheese and tortilla strips

Directions:
Chop onion, celery, garlic and put into soup pot. Wash chicken breast, cut into chunks and put into pot. Cook chicken for few minutes until done. Add tomatoes, broth, beans, lentils, seasoning and bring to a boil. Cook for 20 minutes and add tortilla strips and cook another 10 minutes.
Serve with shredded cheese, chopped scallion onion or extra tortilla strips sprinkled on top for garnish. 
---

Other Homemade Soup Recipes
Black Bean Soup
Chicken Noodle Soup
Chili Recipes
Clam Chowder
French Onion Soup Recipe
Potato Soup Recipes
Roasted Red Pepper Tomato Soup
Vegetable Soup Recipes
Wild Rice Soup Recipe


Other Mexican or Southwest Style Recipes
---
Return from Chicken Tortilla Soup Recipe to Homemade Soup Recipes

Return to Home Page Cooking Recipes Collection