Fruit Filled Dessert Empanadas
I could eat these wonderful Dessert Empanadas all day long. Make it easy and prepare the dough ahead of time and keep in the freezer. If preparing for a dinner party and want to make the dessert ahead of time, the baked empanadas can also be frozen. Just take out what you need that morning to thaw. Once thawed, warm slightly in the oven and then roll in the sugar/cinnamon mix.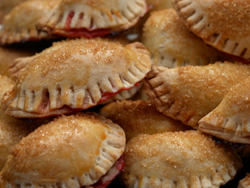 Ingredients:
1/2 cup softened butter
1 - 3oz pkg cream cheese
1 cup sifted flour
1 cup fruit preserves or berry pie filling
1/3 cup white sugar
1 teaspoon ground cinnamon
1/2 cup milk



Directions:
Cream butter and cream cheese together until well blended. Beat in the flour. Form into a ball and wrap in saran wrap. Refrigerate for couple hours or over night. The dough will keep up to a week.
Remove dough from refrigerator 30 minutes before using. Dough should be cold but not refrigerator cold. Preheat oven to 375°F.
Roll chilled dough thin. Using a round cookie cutter or a large mouth jar, cut into 3 to 4 inch rounds. Place small spoonful of fruit in center of each round, moisten edges with milk. Fold round over and press or crimp edges together with a fork.
Bake 375°F on ungreased cookie sheet 15 to 20 minutes. Immediately roll in mix of sugar and cinnamon.

---

Other Mexican or Southwest Style Recipes
Avocado Salad Dressing
Bunuelos
Chicken Tortilla Soup Recipe
Chili Con Carne
Chili Noodle Casserole
Chili Stuffed Burritos
Chimichangas
Enchilada Recipes (Beef, Chicken and Cheese)
Guacamole Dip
Mexican Layer Dip
Mexican Pork
Mexican Salad
Pork Empanadas
Salsa Recipes including Enchilada and Picante Sauces
Tamales
Tortilla Pinwheels

Other Dessert Recipes
Dessert Page Link (click here)
---
Return from Dessert Empanadas to Mexican Food Recipes

Return to Home Page Cooking Recipes Collection