Mexican Pork
Use this delicious slow cooker Mexican pork in Mexican cooking recipes such as Chilies Rellenos, Chimichangas and tamale recipes. Just click on these links to find some wonderful recipe suggestions to use this prepared pork with.
It freezes very well. Have some on hand at a moments notice. If planning on freezing some, you may want to double the recipe. Then freeze in 2 cup portions.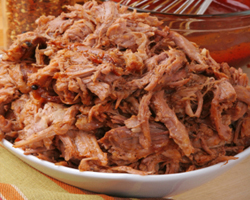 Ingredients:
1 3# pork loin, butt or shoulder roast
2 large white onion, chopped
4 cloves garlic, pressed
3 Tbls chili powder
3 tsp ground cumin
2 tsp salt

Optional:
2 4oz cans diced green chili peppers

Directions:
Place the roast inside a slow cooker Add chili powder, cumin
and salt. Add enough water so that the roast is mostly covered.
Cover, and cook on Low for 8 to 9 hours.
When the roast is fork-tender, remove it from the slow cooker, and place on a cutting board. Remove any bone and fat, then shred with forks. Save the broth and puree in a blender. Reserve to use with your favorite Mexican cooking recipe
At this point you can put the pork back into the crock pot and add the cans of green chilies, couple cans of pinto beans, heat through and serve with flour tortillas and your favorite toppings.
---

Other Mexican Recipes
Avocado Salad Dressing
Bunuelos
Chicken Tortilla Soup Recipe
Chili Con Carne
Chilies Rellenos
Chili Noodle Casserole
Chili Stuffed Burritos
Chimichangas
Corn Bean Dip
Dessert Empanada
Enchilada Recipes (Beef, Chicken and Cheese) Guacamole Dip
Mexican Pork
Mexican Salad
Pork Empanada
Salsa, Enchilada and Picante Sauce Recipes
Tamales
Tortilla Pinwheels

Check out my other Slow Cooker/Crock Pot Recipes
---