BRUSCHETTA
This is a very easy Bruschetta recipe
that can be altered to your own likes.
.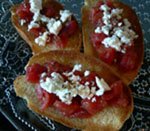 INGREDIENTS:

1 cup fresh chopped tomato
fresh chopped basil - to taste
1 press garlic clove
1/2 cup coarse chopped red onion
1/2 cup coarse chopped ripe olives, optional
thin sliced fresh mozzarella or
crumbled feta cheese


Mix first 5 ingredients. Toast 3/4 inch sliced french bread. If using slice of mozzarella put it on toasted slice of bread first so it slightly melts. Top with tomato mix. If using crumbled feta, sprinkle on top of tomato mixture at the end. Serve immediately once assembled.



Tips -- Toasting the bread keeps if firm so the appetizers can be picked up easily. If you do not have fresh basil on hand, you could substitute with dry herbs.

Time saver! Put first 5 ingredients in food processor and coarse chop. Can make the tomato mix ahead and then assemble when needed.
---

Browse more appetizer recipes

Artichoke Spinach Dip
Artichoke squares
BBQ Chicken Wings
Baked Stuffed Mushrooms
Buffalo Chicken Wings
Cajun Shrimp
Cheesy Crackers
Chicken Strips
Corn Bean Dip
Hot Chicken Dip
Louisiana Pork Riblets
Mexican Layered Dip
Party Cheeseball
Pizza Roll Ups
Salmon Lox
Spanakopita
Stuffed Eggs
Tapenade
Tortilla Pinwheels
Veggie Pizza
---
Return from Bruschetta to Appetizers

Return to Home Page Cooking Recipes Collection