Artichoke Squares


Cheesy Artichoke Squares are a yummy hot appetizer
that are great treat for football game half time.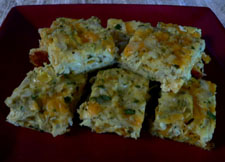 INGREDIENTS:
1 - 14oz can artichoke hearts, drained and chopped
1 small onion chopped fine
1 clove garlic, pressed
1 tsp oil, best with olive oil
4 eggs
2 Tbl minced fresh parsley
1/4 tsp salt
Dash pepper
Dash oregano
Dash cayenne pepper or can use any hot sauce
1/2 cup shredded swiss cheese
1/2 cup shredded cheddar cheese
1 cup shredded romano cheese
10 saltine crackers, crushed


Preheat oven to 325 degrees; Lightly spray a 11x7x2 pan with butter spray Sauté onion and garlic until tender. Stir in artichoke and set aside.
In a large mixing bowl whisk eggs, parsley, salt, peppers and oregano.
Stir in cheese and crushed crackers. Pour into the prepared pan and bake for 25-30 minutes. Stick the center with a clean knife to check if done.
Cool 10 minutes and cut into one inch squares. Tip: This can be made ahead and kept in the refrigerator until ready to use.
Thank you Denise for sharing this great Artichoke Square Recipe.
---

Browse more recipes
Artichoke Spinach Dip
BBQ Chicken Wings
Baked Stuffed Mushrooms
Bruschetta
Buffalo Chicken Wings
Cajun Shrimp
Cheesy Crackers
Chicken Strips
Corn Bean Dip
Hot Chicken Dip
Louisiana Pork Riblets
Mexican Layered Dip
Party Cheeseball
Pizza Roll Ups
Salmon Lox
Spanakopita
Stuffed Eggs
Tapenade
Tortilla Pinwheels
Veggie Pizza
---

Return from Artichoke Squares to Appetizers

Return to Home Page Cooking Recipes Collection