Cajun Shrimp Appetizers
This recipe is so quick and easy. Using EZ peel frozen shrimp, cleaning and preparing this recipe took less than 30 minutes to get it in the refrigerator to marinade.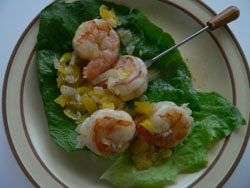 INGREDIENTS:
1/2 Lemon
1/3 cup water
1 small onion, chopped
2 Tbl fresh lemon juice
1 Tbl olive oil
2 cloves garlic, pressed
1 Tbl Cajun seasoning (see below)
1/4 tsp salt
1 1/2 lbs fresh deveined and shelled
medium shrimp (about 2 pounds in the shell)
1/2 cup chopped yellow or red sweet pepper
Lettuce leaves




Carefully remove peel from the lemon half, being careful not to include the white portion. The white will give it a bitter taste. Oh the smell of fresh lemon, it's best part about preparing this recipe.
Combine lemon peel, water, onion, lemon juice, oil, garlic, Cajun seasoning, and salt in a large skillet; heat to boiling. Add shrimp stirring to coat. Return to boiling. Reduce heat and simmer, covered, about 3 minutes or less until shrimp are opaque, stirring a couple times. Stir in yellow or red pepper.
Transfer mixture to a glass bowl. Cover and marinate in the refrigerator for 4 hours, stirring the mixture occasionally.
At serving time, drain mixture well. Put lettuce on a serving platter and place shrimp on lettuce with serving picks.

Lemon zest -- bring to a boil -- marinade 4 hours
Cajun Seasoning Recipe
If you are like me you have every spice in available. Why go out and by a special container of Cajun Seasoning. Here is a recipe to make your own.
2 Tbls of each paprika, salt and garlic powder.
1 Tbls of each fresh ground black pepper, onion powder, cayenne pepper.
Mix all thoroughly and put in air tight container.
---

Other Appetizer Recipes
Artichoke Spinach Dip
Artichoke Squares
Baked Stuffed Mushrooms
BBQ Chicken Wings
Bruschetta
Buffalo Chicken Wings
Cheesy Crackers
Chicken Strips
Corn Bean Dip
Hot Chicken Dip
Louisiana Pork Riblets
Mexican Layer Dip
Party Cheeseball
Pizza Roll Ups
Salmon Lox
Spanakopita
Stuffed Eggs
Tapenade
Tortilla Pinwheels
Veggie Pizza

Other Shrimp Recipes
Linguine with Shrimp and Mushrooms
Rosemary Garlic Shrimp
Shrimp Fra Diavolo
Shrimp Scampi with Pasta
Spicy Garlic Shrimp
---

Return from Cajun Shrimp Appetizers to Appetizers

Return to Home Page Cooking Recipes Collection