LOUISIANA PORK RIBLETS
Louisiana Pork Riblets are a nice alternative to Wings but if having a larger crowd, serve both Buffalo Chicken Wings and Riblets, you will be the hit of any party.
The same Blue Cheese Dipping Sauce goes great with both.
When I made these I was serving for dinner so I used baby back ribs as shown in the picture instead of appetizers. What a wonderful meal they made when served with coleslaw and pork-n-beans.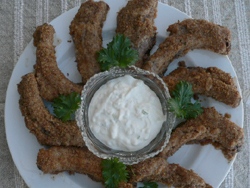 INGREDIENTS:
1 pound pork ribs, cut into 1" pieces
2 tablespoons butter, melted
1 tablespoon hot pepper sauce
1/4 cup Cajun seasoning (see below)
2 tablespoons Bread Crumbs


DIRECTIONS:
1. Heat oven to 350º F. In a small bowl mix butter and hot pepper sauce. In a shallow plate mix seasoning and breadcrumbs.
2. Dip ribs into butter mixture and then seasoning mixture. Arrange on an ungreased baking sheet. Bake 45 minutes, until golden and cooked through.

Serve with Blue Cheese Dipping Sauce.

Tip: Have the butcher cut the ribs for you, save yourself the extra work. Sometimes you can find them pre-cut in the meat case, so check there first.


Cajun Seasoning Recipe
If you are like me you have every spice in available. Why go out and by a special container of Cajun Seasoning. Here is a recipe to make your own.
2 Tbls of each paprika, salt and garlic powder.
1 Tbls of each fresh ground black pepper, onion powder, cayenne pepper.
Mix all thoroughly and put in air tight container.
---

Browse more appetizer recipes

Hot Artichoke Spinach Dip Artichoke Squares
Baked Stuffed Mushrooms
BBQ Chicken Wings
Bruschetta
Buffalo Chicken Wings
Cajun Shrimp
Cheesy Crackers
Chicken Strips
Corn Bean Dip
Hot Chicken Dip
Mexican Layer Dip
Party Cheeseball
Pizza Roll Ups
Salmon Lox
Spanakopita
Stuffed Eggs
Tapenade with Kalamata Olives
Tortilla Pinwheels
Veggie Pizza
---
Return from Louisiana Pork Riblets to Appetizers Page

Return to Home Page Cooking Recipes Collection