Cold Veggie Pizza
Want to make easy appetizers for your next get together. Try cold veggie pizza and tortilla pinwheels. Both are great to feed a large group for party appetizers.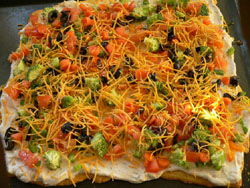 Ingredients:
2 pkg crescent rolls
2 8oz pkg cream cheese
2/3 cup mayo
Salt and pepper
1 Tbl Dill weed
1/4 taco sauce

1/4 Cup chopped green pepper
1/4 Cup chopped Tomato
1/4 Cup chopped Green Scallion Onion
1/4 Cup chopped Black Olives
1/4 cup chopped Broccoli
1/4 Cup chopped or shredded Carrots
1/4 Cup shredded Cheese

Directions:
Preheat oven to 375°F
Pat crescent rolls in a 15x11 pan and bake 10-14 minutes until golden brown.
Mix cream cheese, mayonnaise, salt, pepper, dill weed and taco sauce. Spread on crust once it has cooled completely.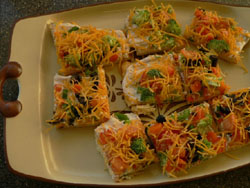 Top with chopped veggies and cheese. Cover with plastic wrap, chill in refrigerator for an hour, then cut into pieces and serve.
Suggestions: If you do not have the crescent rolls on hand but have all the other ingredients, just use crackers or toasts. Works fine for a simple treat for your game night with the family. That way everyone can put their preferred choice of veggie on it, or try getting little ones to eat veggies by making faces out of the veggies.

---

Other Appetizer Recipes
Artichoke Squares
Baked Stuffed Mushrooms
BBQ Chicken Wings
Bruschetta
Buffalo Chicken Wings
Cajun Shrimp
Cheesy Crackers
Chicken Strips
Corn Bean Dip
Hot Artichoke Spinach Dip
Hot Chicken Dip
Louisiana Pork Riblets
Mexican Dip for Crackers and Chips
Party Cheeseball
Pizza Roll Ups
Salmon Lox
Spanakopita (spinach pie and phyllo pockets)
Stuffed Eggs
Tapenade made with Kalamata Olives
Tortilla Pinwheels

---

Return from Veggie Pizza to Appetizers

Return to Home Page Cooking Recipes Collection