TAPENADE
made with Kalamata Olives



Kalamata Olive Tapenade Appetizers are gourmet canape without the fuss. Try pairing with a glass of Chardonnay for a real treat. Very easy to make and your guests will love it.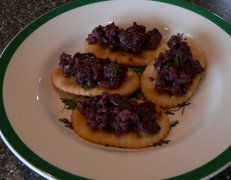 INGREDIENTS:

1 cup pitted olives coarse chopped
1/4 fresh chopped flat leaf parsley
1 clove garlic, fresh or roasted
1/3 cup fine chopped white onion
1 Tbl Pesto or some chopped fresh basil
1 tsp lemon juice
1 Tbl olive oil



Mix all ingredients and serve on
crusty baguette slices, toasts or crackers.
This is a very easy and quick recipe. With a little more fuss, try adding roasted garlic and bell peppers to the mix. You will come up with a very interesting and delicious flavor.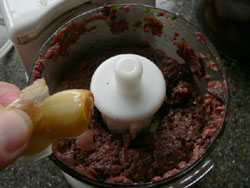 Time saver!
Put first 5 ingredients in mini food chopper and coarse chop. If you prefer a paste, blend in food chopper longer until you reach your desired consistency. I prefer it coarse like my picture.
---

Browse more appetizer recipes

Artichoke Spinach Dip
Artichoke Squares
Baked Stuffed Mushrooms
BBQ Chicken Wings
Bruschetta
Buffalo Chicken Wings
Cajun Shrimp
Cheesy Crackers
Chicken Strips
Corn Bean Dip
Hot Chicken Dip
Louisiana Pork Riblets
Mexican Layered Dip
Party Cheeseball
Pizza Roll Ups
Salmon Lox
Spanakopita (spinach pie and phyllo pockets)
Stuffed Eggs
Tortilla Pinwheels
Veggie Pizza
---

Return from Tapenade to Appetizers

Return to Home Page Cooking Recipes Collection