Stuffed Eggs Appetizers
My friend Pam who gave me this Stuffed Eggs recipe claims they are the BEST EVER, and after having them, I agree. Try this recipe for your next party, they will be a hit. Be prepared to give out a copy of the recipe, your friends and family will request it once they have them.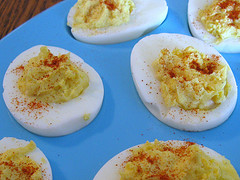 INGREDIENTS:
6 eggs, hard cooked
1/4 cup mayonnaise
2 tsp lemon juice or vinegar
1/2 tsp chicken stock base
1/8 tsp onion powder
1/2 tsp Bon Appe´tit
1/2 tsp crushed parsley flakes
Paprika to sprinkle on top




Remove yolks and mash. Add rest of the ingredients. Mix thoroughly and fill the whites. Sprinkle with the Paprika.

Tip: To boil the perfect egg, start with cold eggs and put into pot with cold water at least an inch over the top of the eggs. Bring to a boil point and reduce heat to simmer. Simmer for 10 minutes, take off heat and let sit in hot water for 10 minutes. Run cold water over them and put in refrigerator until ready to use.
---

Browse more appetizer recipes

Hot Artichoke Spinach Dip
Artichoke Squares
Baked Stuffed Mushrooms
BBQ Chicken Wings
Bruschetta
Buffalo Chicken Wings
Cajun Shrimp
Cheesy Crackers
Chicken Strips
Corn Bean Dip
Hot Chicken Dip
Louisiana Pork Riblets
Mexican Layer Dip
Party Cheeseball
Pizza Roll Ups
Salmon Lox
Spanakopita (Spinach Pie and Phyllo Pockets)
Tapenade made with Kalamata Olives
Tortilla Pinwheels
Veggie Pizza
---
From Stuffed Eggs to Appetizers

From to Home Page Cooking Recipes Collection