Shrimp Scampi with Pasta


Fast and easy Shrimp Scampi is ready in just minutes, an ideal dish for two on a special evening.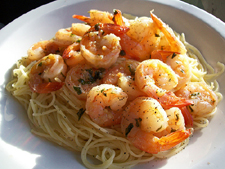 Ingredients:
1 pound pasta such as linguini
or spaghetti noodles
4 Tbl butter
4 Tbl extra virgin olive oil
2 cloves garlic, pressed
1 pound of 26-30 ct shrimp,
peeled and deveined
Kosher salt and freshly ground black pepper
1/2 cup dry white wine or Dry Vermouth
Juice of 1/2 lemon
1/4 cup finely chopped parsley leaves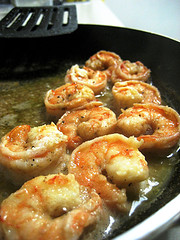 Directions:
Cook pasta as recommended on package.
While pasta is cooking, Melt 2 tablespoons butter in 2 tablespoons olive oil over medium-high heat in a large skillet. Saute the garlic for a minute or so.
Season the shrimp with salt and pepper; add them to the pan and cook until they have turned pink, about 2 to 3 minutes. Remove the shrimp from the pan; set aside and keep warm.
Add wine and lemon juice and bring to a boil. Add 2 tablespoons butter and 2 tablespoons oil. When the butter has melted, return the shrimp to the pan along with the parsley and cooked pasta. Stir well, season with salt and pepper. Serve immediately.
Tip: When cooking shrimp watch closely. The shrimp should just turn pink and then removed from the heat. It will be rubbery if over cooked.
---

Other Seafood Recipes you may be interested in:
Baked, Broiled and Grilled Salmon
Linguine with Shrimp and Mushrooms
Shrimp and Zucchini Linguine
Shrimp Fra Diavolo
Spicy Garlic Shrimp

---
Return from Shrimp Scampi to Seafood Recipes

Return to Home Page Cooking Recipes Collection