Rosemary Garlic Shrimp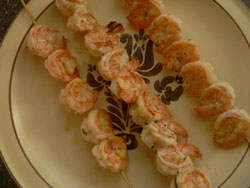 My shrimp recipe for Rosemary Garlic Shrimp can be prepared for an appetizer, main course or even add a skewer of shrimp to a nice steak for surf-n-turf.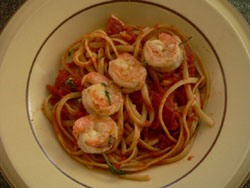 Ingredients:
1/4 cup extra virgin olive oil
2 Tbl fresh squeezed lemon juice
2 cloves garlic, pressed
1 T chopped fresh rosemary
1 tsp seasalt
1/2 tsp fresh ground black pepper
1 lb shrimp
Directions:
Combine oil, lemon juice, garlic, rosemary, salt and pepper. Add shrimp and marinate in refrigerator for 30 minutes. Toss occasionally.
Saute in large skillet for 6-8 minutes over medium heat.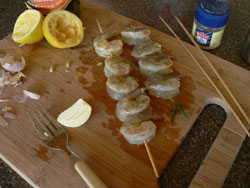 Suggestion:
A nice variation to cooking shrimp on the stove is to grill the shrimp on the bar-b-cue. Skewers of grilled shrimp delicately flavored with rosemary and garlic are sure to please.
If using wood skewers(which I recommend for this shrimp recipe), soak in water for 30 minutes while the shrimp are marinating. Or, use the stem of the rosemary for the skewer. I grow my herbs so I have plenty on hand to do this with.
Preheat grill to medium high heat. Place skewered shrimp on grill for 6 - 8 minutes, turning occasionally until shrimp is opaque and cooked through.


---

Other Seafood Recipes
Baked, Broiled and Grilled Salmon Recipes
Cajun Shrimp
Linguine with Shrimp and Mushrooms
Salmon Lox
Shrimp and Zucchini Linguine
Shrimp Fra Diavolo
Shrimp Scampi with Pasta
Spicy Garlic Shrimp
---
Return from Rosemary Garlic Shrimp to Seafood

Return to Home Page Cooking Recipes Collection