Baked Stuffed Mushrooms


Making baked stuffed mushrooms is fun and easy. Try dividing the stuffing and add different ingredients to make a variety of stuffed mushroom appetizers.
Add any seafood such as crab meat or shrimp. Omit the Parmesan and add cream cheese with bacon to the mixture. Another idea is to omit the Parmesan, substitute with sausage and mozzarella cheese.
The possibilities are endless once you have this basic stuffing mix made. Click here to share your own ideas for making stuffed mushrooms.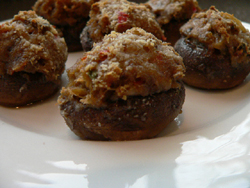 Ingredients:
1 stick of butter
1 small onion, minced
1/2 cup finely chopped red bell pepper
1 lb large white button mushrooms (remove stems and finely chop)
1/3 cup sweet ,Vermouth
1/2 tsp Worcestershire sauce
1 cup plain bread crumbs
1/2 tsp salt
1/4 tsp pepper
3/4 tsp garlic powder
1/4 tsp oregano
3 Tbl grated Parmesan cheese

Directions:
Preheat oven to 350°F.
Melt butter in medium sized skillet. Brush outside of each mushroom cap with melted butter. Use remaining butter in pan to saute onion and red pepper until onion is translucent then add remaining ingredients except the cheese. Saute until onions and mushrooms for about 10 to 15 minutes until cooked through, add a little more butter if needed to saute.
Remove from heat and stir in the Parmesan cheese. Stuff each mushroom cap with mixture, top with sprinkle of Parmesan. Place on a foil lined cookie sheet or jelly roll pan, spacing at least an inch apart. Bake at 350°F for 15 to 20 minutes.
TIP:
Foil on the pan is not necessary but will help with a quick and easier clean up.
---

Other Appetizer Recipes
Artichoke Squares
BBQ Chicken Wings
Bruschetta
Buffalo Chicken Wings
Cajun Shrimp
Cheesy Crakers
Chicken Strips
Corn Bean Dip
Hot Artichoke Spinach Dip
Hot Chicken Dip
Louisiana Pork Riblets
Mexican Dip for Crackers and Chips
Party Cheeseball
Pizza Roll Ups
Salmon Lox
Spanakopita (spinach stuffed phyllo pockets)
Stuffed Eggs
Tapenade made with Kalamata Olives
Tortilla Pinwheels
Veggie Pizza

Other Vegetable Recipes
Roasted Garlic Recipe
Kale Chips
Roasted Peppers
Vegetable Rice
---
Return from Baked Stuffed Mushrooms to Vegetable Recipes Page

Return to Home Page Cooking Recipes Collection