Sunflower Coleslaw Salad
This Sunflower Coleslaw Salad is one of my long standing favorite oriental cabbage salads. When my friend Barb made it for food day at work it was the first thing we ran out of. This was over 20 years ago and since then I have had it made by others but made with a little twist. I just do not find it as good as this original recipe. So I stick to the tried and true original recipe I have enjoyed for so many years.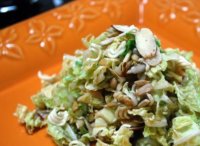 INGREDIENTS:
2 pkgs Ramen Beef Noodles,
take out season packets and break up noodles
1 pkg coleslaw
4 oz sunflower seeds
2 1/2 oz toasted, slivered almonds
1/4 cup onion, finely chopped

Toast almonds in non-stick fry pan. Put on medium high heat, add almonds, stir until lightly browned and remove from heat. Set aside to cool on paper towel.
In a medium bowl with a tight fitting cover, Mix all together, cover and put in refrigerator.
Dressing:

1 cup oil
1/2cup sugar
1/3 cup cider vinegar
Beef seasoning packets

Put all dressing ingredients in shaker and blend well. Pour over coleslaw just before serving.


---

Other Salad Recipes
7 Layer Salad Recipe
Ambrosia Fruit Salad
American Potato Salad
Apple Taffy Salad
Caesar Salad
Chutney Spinach Salad
Curry Turkey Salad
Jello Icecream Salad
Roasted Pear Spinach Salad
Southwest Potato Salad
Strawberry Spinach Salad
Taffy Apple
Waldorf Salad


Salad Dressings
Asian Salad Dressings
Blue Cheese Salad Dressings
Dijon Salad Dressings
Italian Salad Dressings
Ranch Salad Dressings
Sun-Dried Tomato Dressing
Vinaigrette Salad Dressings

---
Return from Sunflower Coleslaw Salad to Salad Recipes

Return to Home Page Cooking Recipes Collection