Caesar Salad
My friend Connie gave me this Caesar Salad recipe and when I made it, found that the Worcestershire has enough anchovy flavor for my taste so I didn't need to add any. Tom absolutely loves anchovy so he gets his own side dish to add a few anchovy filets to his salad.
Many of us avoid the raw egg for safety reasons so this recipe uses mayonnaise. If you prefer to use egg, it can be raw or coddled egg yolk, just omit the mayonnaise.
And of course the best croutons are home made, which are very easy to make. I like to use a nice french bread. They disappear fast so make enough so you have some for the salad.
Homemade Croutons:
4 garlic cloves
1/4 cup extra virgin olive oil
2 cups cubed bread, 3/4 inch
1/4 tsp salt

Press garlic and blend with oil and let sit for at least 30 minutes to infuse the garlic into the oil. Using a fine mesh strainer, strain garlic from oil and set aside.
Heat 10 inch skillet on medium heat. Put bread in bowl and drizzle 1 Tbl oil evenly over bread, pinch of salt and toss. Repeat until oil and salt are used up. Put bread in skillet, turning cubes and shaking pan until crisp and golden brown. Return cubes to bowl and set aside to cool.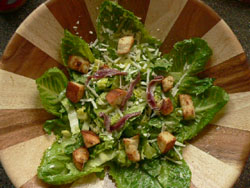 Caesar Salad:
2 Tbl fresh lemon juice
1/4 tsp Worcestershire sauce
2 1/2 Tbl Real Mayonnaise
3 Tbl extra virgin olive oil
1/2 of the garlic reserved from making croutons
1 clove garlic, pressed to side of wood bowl3 large romaine hearts, leaves left whole
1/4 cup Fresh Grated Parmesan Cheese
Fresh ground Salt and Pepper to taste

Prepare the dressing: whisk lemon juice, Worcestershire sauce, mayonnaise, garlic, salt and pepper in a small bowl. Slowly blend in oil. In a large wood salad bowl, press garlic to sides and coat the bowl. Add Romaine and toss with dressing. Add cheese and croutons toss again. Taste and adjust seasoning as needed and serve.
Have additional cheese available for individual likes. And don't forget the side of anchovy.
Suggestion:
Add grilled chicken or cooked shrimp to make a dinner size salad for a meal.
---

Other Salad Recipes
7 Layer Salad Recipe
Ambrosia Fruit Salad
American Potato Salad
Apple Taffy Salad
Chutney Spinach Salad
Curry Turkey Salad
Jello Icecream Salad
Roasted Pear Spinach Salad
Southwest Potato Salad
Strawberry Spinach Salad
Sunflower Coleslaw Salad
Taffy Apple Salad
Waldorf Salad



Salad Dressings
Asian Salad Dressings
Blue Cheese Salad Dressings
Dijon Salad Dressings
Italian Salad Dressings
Ranch Salad Dressings
Sun-Dried Tomato Dressing
Vinaigrette Salad Dressings

---
Return from Caesar Salad to Salad Recipes

Return to Home Page Cooking Recipes Collection