Curry Turkey Salad
I love this Curry Turkey Salad recipe. Easy to substitute the turkey with chicken. I usually keep this recipe close by during the holidays to use up some of the Thanksgiving dinner leftovers. Put it on a bed of lettuce or on slice of nice crusty french bread, it is yummy.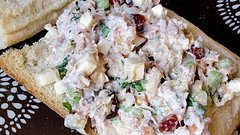 Ingredients:
2 cups shredded turkey(both white and dark meat)
1 cup diced celery
1 cup seedless red grapes, halved
1/4 cup flaked coconut
6 Tbl chopped flat leave parsley
1 cup curry mayonnaise


Directions:
Mix all ingredients in medium bowl, except 2 Tbl parsley saving for garnish. Prepare plates with crisp iceberg lettuce by making lettuce bowls. Spoon turkey salad into lettuce bowls and sprinkle with remaining parsley and serve.
Depending how large you make the lettuce bowls this recipe will make from 4 to 6 salads.
---

Other Salad Recipes
7 Layer Salad Recipe
Ambrosia Fruit Salad
American Potato Salad
Apple Taffy Salad
Caesar Salad
Chutney Spinach Salad
Jello Icecream Salad
Roasted Pear Spinach Salad
Southwest Potato Salad
Strawberry Spinach Salad
Sunflower Coleslaw Salad
Taffy Apple Salad
Waldorf Salad

Salad Dressings
Asian Salad Dressings
Blue Cheese Salad Dressings
Dijon Salad Dressings
Italian Salad Dressings
Ranch Salad Dressings
Sun-Dried Tomato Dressing
Vinaigrette Salad Dressings

---
Return from Curry Turkey Salad to Salad Recipes

Return to Home Page Cooking Recipes Collection