Roasted Pear Spinach Salad
Roasted Pear Spinach Salad on a bed of baby spinach topped with delicious roasted pears, blue cheese, caramelized pecans and then drizzled with Dijon Vinaigrette salad dressing. Don't care for spinach? Substitute the spinach with spring mix salad or put together a blend of salad greens.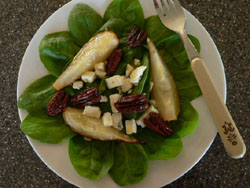 Baby Spinach
Roasted Pears
Caramelized Pecans
Blue Cheese
Dijon Vinaigrette Dressing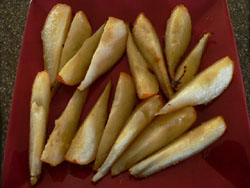 To make the Roasted Pears:
3 pears, halved and cored
1 tablespoon butter, melted
1 teaspoon granulated sugar
1 teaspoon lemon juice

Preheat the oven to 400°F. Cut each pear half into 4 wedges and put on parchment-lined baking sheet. Mix together butter, sugar and lemon juice and drizzle over pears. Roast the pears for 20 to 30 minutes, stirring every 10 minutes. Allow the pears to cool to room temperature.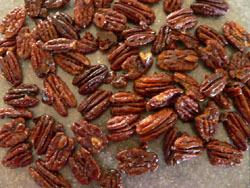 To make the caramelized pecans:
1 cup pecan halves or pieces
1/4 cup brown sugar
1 Tbl olive oil
1 Tbl balsamic vinegar

Stir sugar, oil, and vinegar in a large skillet over medium heat until sugar melts and syrup bubbles, about 3 minutes. Mix in pecans and stir until nuts are toasted and syrup coats them evenly. Spread the nuts on a parchment-lined baking sheet and roast for 10 minutes at 400°F. Nuts should look like they are glazed. Cool completely on a sheet of wax paper or foil separating with a folk.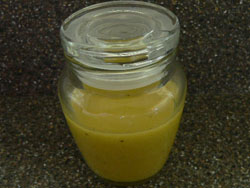 To make the Dijon Vinaigrette Salad Dressing:
1 cup extra virgin olive oil
1/4 cup lemon juice
1/4 cup Red Wine Vinegar
1 1/2 Tbl Dijon Mustard
Salt and fresh ground black pepper to taste

Put all ingredients into a shaker to blend. Best is made at least one hour before serving.
---

Other Salad Dressings you will want to try

Other Salad Recipes
7 Layer Salad
Ambrosia Fruit Salad
American Potato Salad
Apple Taffy Salad
Caesar Salad
Chutney Spinach Salad
Curry Turkey Salad
Jello Icecream Salad
Southwest Potato Salad
Strawberry Spinach Salad
Sunflower Coleslaw
Taffy Apple Salad
Waldorf Salad

---

Return from Roasted Pear Spinach Home Page