Baklava
You will never find a better
Baklava than this one.


If you have the patients to make this Greek Dessert Recipe exactly you will be very happy with the outcome.
The biggest thing I have learned from my Greek Mother is to not cut any corners when preparing any Greek cooking recipe.
Every thing is done for a reason either to enhance the flavor, texture and/or appearance.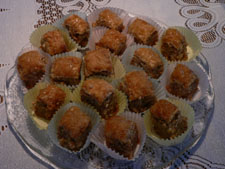 First prepare the syrup:
4 c water
3 c sugar
1 lemon slice
2 sticks cinnamon


Boil together for approx 25 minute until thickens slightly. Add: 1 cup honey and boil for 5 more minutes. Set aside to cool to room temperature.


Ingredients:
1 lb Phyllo
1 ½ lb walnuts coarsely chopped
½ lb blanched almonds (1 ½ cups) finely chopped
Cinnamon
1 ½ lbs melted sweet, unsalted or lightly salted butter

Directions:
Chop and combine the walnuts and almonds. Melt butter. Brush bottom of 13x9 inch pan with melted butter. Line the bottom with 10 sheets of phyllo, each sheet being brushed with melted butter and lightly sprinkled cinnamon before applying the next sheet.
The phyllo dough must be kept covered or it will dry out. Use wax paper and place towel on top to keep covered as snug as possible. I use a heavy cookie sheet placed on top of the towel.
Start alternating sheets of phyllo with layers of nuts, making sure to brush each phyllo sheet with butter and sprinkle of cinnamon. Continue in this manner until you have 6 sheets of dough left.
Preheat oven to 350°F
Top layer of 6 phyllo sheets are brush with just butter, no cinnamon or nuts.
Cut in diamond or square shaped pieces cutting all the way through to the bottom. Bake at 350°F for 1 hour and 15 minutes, until golden brown.
Immediately, slowly pour or ladle 4 cups of cooled syrup over hot Baklava. This must be done slowly so the syrup can be absorbed into the layers evenly. The trick is to use just enough syrup so it is not dry or not too soggy. If the syrup is pooling, stop and let it rest a minute or so and then continue ladling the syrup if more is needed.
Baklava is best served the next day to give the pastry time for flavors to mellow together. Keep in cool place, but not the refrigerator. Serve at room temperature.
---

Other Greek Recipes
Dolmathes (Meat stuffed grape leaves in egg-lemon sauce)
Lamb and Noodles
Meatball Recipes
Pastichio (Greek Lasagne)
Spanakopita

Other Dessert Recipes
Black Russian Cake
Carmel Popcorn
Cheesecake Recipes
Cinnamon Rolls
HO HO Cake
Special K Bars

---
Return from Baklava to Dessert Recipes

Return to Home Page Cooking Recipes Collection