HORSERADISH SAUCE
This recipe creation of horseradish sauce is to compliment a variety of beef dishes. I made it for Tom's prime rib the other night and a few guests liked it so much they put some on their baked potato too.
You can make this sauce however strong you like. I prefer to make it with the lesser amount of horseradish called for in the recipe, so as not to over power the blue cheese or meat flavor.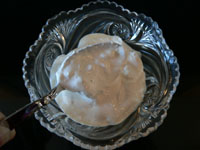 INGREDIENTS:

8 oz Sour Cream
4 Tbl Heavy Whipping Cream
2 Tbl finely crumbled Blue Cheese
2-3 Tbl Horseradish, use to your liking
1/4 tsp white pepper
1/2 tsp Kosher Salt
1 tsp prepared Mustard
Pinch of Cayenne pepper

Mix thoroughly sour cream and whipping cream before adding any other ingredients. Blend in Blue Cheese. Add remaining ingredients, mix completely and keep refrigerated until ready to serve.
Tips: Make a day earlier than needed and store in refrigerator so flavors have chance to blend. Take out 1 hour before serving.
This sauce can be use on any beef dish such as roast beef dinner, steak, Prime Rib, tenderloin, burgers.
---

Other Sauce Recipes
Basic White Sauce and Velouté Sauce
Blue Cheese Dipping Sauce
Chili Sauces
Creamy Dill Sauce
Creamy Mustard Sauce
Curry Mayonnaise Spread
Quick and Easy Sauces
Salsa, Enchilada and Picante Recipes
Seafood Sauce

---
Return from Horseradish Sauce to Sauce Recipes

Return to Home Page Cooking Recipes Collection