Clam Chowder Recipes
New England clam chowder is a milk or cream based, Manhattan clam chowder has red tomato color and flavor. Both are delicious and just depends what your in the mood for. Hope you enjoy these two recipes and if you have a variation you would like to share please click on the link below.
New England Clam Chowder
Ingredients:
26 oz can minced or chopped clams
2 cups clam juice
4 bacon slices, cut into pieces
1 cup Chopped leeks 1 cup chopped onion
1 cup chopped celery
1 garlic clove, minced
1/2 cup of flour 4 cups cubed red potatoes
3 fresh parsley sprigs
2 bay leaf
3 sprigs fresh thyme
1/4 tsp black pepper
1 tsp salt (or to taste)
2 cups heavy cream

Garnish suggestions: (optional) 8 pats cold unsalted butter 1/4 cup finely chopped fresh parsley 1/4 cup finely chopped fresh chives or green onions Crumbled bacon
Directions:
Drain clams through a colander into a bowl, reserving liquid. Combine clam liquid and clam juice and set aside.
Cook bacon in large pot until almost crisp. Remove most of the fat drippings, leaving about 2 Tablespoons drippings in pot. Add onion, celery, and garlic to pot and saute for 5 minutes or until tender. Stir in flour and cook for 10 minutes, stirring occasionally. Add clam juice mixture, potato, and all the herbs and spices. Bring to a boil. Cover, reduce heat to simmer for 15 minutes or until potatoes are tender. Mash a few of the potato on side of pan if you like a thicker soup.
Stir in clams and whisk in cream. Season with salt and pepper. Cook about 5 minutes, but do not bring to boil so cream does not burn to bottom of pot. Remove from heat and let sit for an hour or make a day early so soup has time for flavors to blend.
Remove Bay leaf, thyme and parsley sprigs. Reheat to almost boil temp, ladle into serving dishes and garnish as desired. Serve hot with crusty french bread.
Manhattan Clam Chowder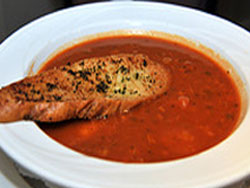 Ingredients:
26 oz can minced or chopped clams, drain and reserve liquid
4 slices bacon, cut into 1/2-inch lengths
2 cups finely chopped onion
1 cup finely chopped celery
1/2 cup chopped bell pepper
3/4 cup diced carrot
1 1/2 tablespoons minced garlic
3 bay leaves
1 1/2 teaspoons dried oregano leaves
4 sprigs fresh thyme
1/2 teaspoon crushed red pepper
3 cups cubed potatoes
1 cup clam juice
1 28oz can chopped tomatoes with juices
1/4 cup chopped parsley leaves
Freshly ground black pepper
Salt to taste

Directions:
In a large heavy pot cook bacon until crisp. Pour off all fat except 4 tablespoons.
Add onions, celery, bell pepper and carrots and cook for 10 minutes, until vegetables are softened. Add garlic, bay leaves, oregano, thyme and crushed red pepper and cook an additional 2 minutes.
Increase heat to high, add clam juices and potatoes. Bring to a boil, cover and cook for about 20 minutes until potatoes are tender and the broth has thickened a little. Add tomatoes and continue to cook for 10 to 15 minutes.
Remove the pot from the heat and add clams and parsley, season with pepper and salt if necessary.
Allow clam chowder to sit for up to 1 hour to allow flavors to blend, then reheat slowly over low fire if necessary. Do not allow to boil.
---

Other Homemade Soup Recipes
Chicken Tortilla Soup Recipe
Chili Recipes
French Onion Soup Recipes
Potato Soup Recipe
Vegetable Soup Recipes
Wild Rice Soup
---
Return from Clam Chowder to Homemade Soup Recipes

Return to Home Page Cooking Recipes Collection