Chili Recipes
Variety of Delicious soul warming chili recipes. I remember these chili Recipes very well from a chili cook off at work. A basic chili which is quick and easy to make, a more complex chili and then a hot chili made with a can of beer and bursting with flavor. Don't be afraid of cooking with spices and herbs when making chili, add to the pot generously. The longer you simmer chili the better it gets.
Take note of my tips at the end. I personally have not made all of these chili's, but I have tasted them in the cook off so I know they are very good.
Easy Chili Recipe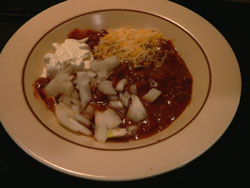 Ingredients:
2 lbs ground chuck
3 cups coarsely chopped onions
3 cups chopped celery
3 Tbl Chili powder
1 tsp Cajun seasoning
2 30oz cans tomatoes
1 30oz can tomato puree
1 15oz can chili beans
1 15oz can light red kidney beans
1/2 cup medium picante sauce
Water

Directions:
In a large stockpot, cook beef with onions and celery until meat is cooked through.
Add chili powder and Cajun seasoning. Cook until vegetables are tender.
Add remaining ingredients, rinsing cans with a bit of water and adding the water to the pot. Heat through and serve. Garnish with cheese, onion and sour cream.
Makes 5 quarts of Chili.
Suggestion:
Great dish to freeze for a quick and easy meal later on.
Mucho Macho Chili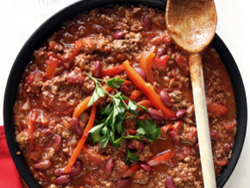 Ingredients:
2 1/2 lbs ground beef, coarsley ground
1/4 cup olive oil
1 cup onion, finely ground
1 Tbl garlic, finely ground
1 large green or red sweet pepper, minced
1 large bay leaf
1 tsp oregano
3 Tbl chili powder
1 tsp ground cumin
1/4 tsp cayenne pepper
1/2 tsp fresh ground black pepper
1 Tbl paprika
2 fresh chili pods(skinned and finely minced)
3 Tbl flour
1 1/2 quarts beef stock
2 tsp sugar
1/4 cup saltine cracker crumbs
2 1/2 cups canned pinto beans, drained
salt to taste

Directions:

Heat olive oil over low heat in a large heavy saucepan or Dutch oven. Add ground beef, stirring until it loses red color. Add onion, garlic, sweet pepper, bay leaf, oregano, chili powder, cumin, cayenne pepper, black pepper, paprika and chili pods. Saute for five minutes. Stir in flour, blending well. Add stock and bring to a boil. Reduce flame and simmer for one hour. Stir in sugar and cracker crumbs. Drain beans and add without their juice. Simmer ten minutes longer. Add salt if necessary and enjoy.
Engineered Chili
Ingredients:
1 large onion, chopped
3 cloves garlic
2 1/2 lbs ground beef
2 tsp Worcestershire Sauce
2 cans Chili Beans
1 quart stewed tomatoes
2 cups tomato juice
1 pint salsa
2 cans Kidney beans
1 cup chili powder
1 can Miller Reserve Light Beer
1/2 tsp Celery salt
1 tsp Habanero peppers

Directions:
Brown meat with onion, drain liquid and add all other ingredients and simmer for 2 hours. Serve with crackers, beer and cheese.
Tips:
I am sure you will have Miller beer in the house, but if not, I think you can use any brand of beer available. Before putting the whole cup of chili powder and the whole tsp of habanero pepper, divide it and add slowly to taste. These are pretty potent ingredients to add all at once.
---

Other Homemade Soup Recipes
Chicken Tortilla Soup Recipe
Clam Chowder Recipes
French Onion Soup Recipe
Potato Soup Recipes
Vegetable Soup Recipes
Wild Rice Soup
---
Return from Chili Recipes to Homemade Soup Recipes

Return to Home Page Cooking Recipes Collection