Potato Soup Recipes
A variety of potato soup recipes
using white potato, sweet potato,
ham, leeks and cheese.


This is my mothers recipe that I remember well while growing up. It has been cut down a bit since most people are not feeding a family of 10. It is very easy to adjust to the number of people you are having for dinner. I like to make extra so the next day we have an easy meal with hardly any preparation.
Potato Soup Recipe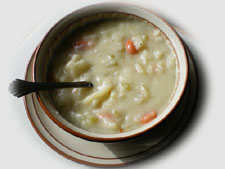 Ingredients:
4 medium potatoes, peeled, cut into 1 inch cubes
1/2 cup diced celery
1/2 cup finely chopped onion
2/3 cup sliced carrot
4 cups chicken stock
1/2 teaspoon salt
1 tsp ground pepper (I like white pepper)
5 Tbl butter
5 Tbl flour
2 cups milk

Directions:
In a large stockpot, combine the potatoes, celery, onion, carrots and chicken stock. Bring to a boil, cook over medium heat until potatoes are tender. Stir in salt and pepper.
In a separate saucepan, melt butter over medium-low heat. Whisk in flour with a fork, and cook, stirring constantly until thick, about 1 minute. Slowly pour in milk to avoid lumps to form until all of the milk has been added. Continue stirring over medium-low heat until thick, 4 to 5 minutes.
Slowly stir the milk mixture into the stockpot, and cook soup until heated through. Serve immediately.
Tip:
Try Garnishing with pinch of shredded cheddar cheese or chopped parsley.
---
Potato Soup variations
For Potato Soup with Ham add 1 1/2 cups cooked diced ham to the cooking vegetables.
For Cheesy Potato Soup add 1 cup shredded cheese at the end as a final ingredient.

---
Potato and Leek Soup
Ingredients:
3 large leeks, trimmed and rinsed
thoroughly, cut into 1 inch pieces
1 Tbl virgin olive oil
1 Tbl butter
3 medium size potatoes, peeled, cut 1/2 inch cubes
28 oz reduced-sodium chicken broth
1 sprig fresh dill(plus 1 Tbl chopped)
1/2 tsp salt
1/8 tsp white pepper
1 cup whole milk
2 tsp fresh lemon juice

Directions:
In soup stockpot, heat oil and margarine on medium until margarine melts. Add leeks and cook 8 to 10 minutes or until tender, stirring occasionally. Stir in potatoes, broth, dill sprig, salt and pepper. Cover and heat to boiling on high. Reduce heat to low; simmer 15 minutes or until potatoes are very tender.
Ladle potato mixture into blender in 3 batches. Blend until all is pureed. Return all the pureed soup to the pot and stir in milk. Heat through. Stir in chopped dill and lemon juice.
---
Sweet Potato Soup
Ingredients:
1 Tbl flour
1 Tbl butter
1 1/2 cups vegetable or chicken broth
1 Tbl light brown sugar
1 1/2 cups cooked sweet potatoes
1 cup chopped onion
2 stalks celery, chopped
1/4 tsp ground ginger
1/8 tsp ground cinnamon
1/8 tsp ground nutmeg
1 cup milk
Salt

Directions:
In a stockpot, over medium-low heat, cook the flour and butter, stirring constantly until roux achieves a light caramel color. Add the broth and brown sugar, bring to a boil, then lower to a simmer. Stir in the sweet potatoes and spices, bring to a simmer again, and cook for 5 minutes more. In a blender, puree the soup in batches and return to stockpot. Add the milk, and reheat soup. Season with salt and pepper, serve immediately in warmed soup bowls.

Tip: When blending the hot soup Remove the center part of the blend cover so heat can escape otherwise you will end up with a mess. You may also want to cover the cover with a paper towel as it might splatter with the open cover.
Serving Suggestions: Serve with warmed Italian bread and a salad for a complete meal.
---
The fun about cooking is having a variety of different ways to prepare a dish. Your family never gets bored and teaches them to keep an open mind to the many different flavors available. I am sure there are many other variations of Potato Soup Recipes, so if you have one you would like to share, please send it in. I would love to try it out and add it to my site.
Just click "SHARE A RECIPE" on the menu bar. or click here.
Share Your Recipe Submission Form
Do you have a great recipe and would like to share it! Or maybe you have tried a recipe and made your own personal changes to it. Please share your ideas, it is what keeps cooking fun.

I am always looking for new recipes to try. I welcome you to share your favorite recipe and become a part of my site with your very own page.
---

Other Soup Recipes
Chicken Tortilla Soup Recipe
Chili Recipes
Clam Chowder Recipes
French Onion Soup Recipe
Vegetable Soup Recipes
Wild Rice Soup
---
Return from Potato Soup Recipes to Soup Recipes

Return from Potato Soup Recipes to Cooking Recipes Collection