Roasted Red Pepper Tomato Soup
Have your blender ready because you want this Roasted Red Pepper Tomato Soup as smooth as possible. Using the blender will also bring all the wonderful flavors together.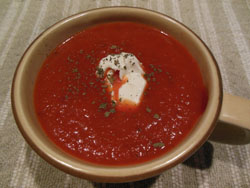 Ingredients:
3 1/2 cups crushed tomatoes
2 cups Swanson unsalted chicken stock
2 roasted red bell peppers
3 cloves garlic
1 diced celery
1/2 cup diced onion
red pepper(cayenne) to taste
Directions:
Steam celery and onion in micro wave till soft. Put in blender with tomatoes and puree till smooth. Pour into pot and add the rest of the ingredients. Heat to boil, reduce to simmer for about 15 minutes. Remove from heat and serve.

Variation:  Make it creamy by adding some milk or cream. Just stir in before serving

---

Soup Recipes
Black Bean Soup
Chicken Tortilla Soup Recipe
Chicken Noodle Soup
Chili Recipes
Chili Con Carne
French Onion Soup Recipe
Potato Soup Recipes
Vegetable Soup Recipes
Wild Rice Soup
---
Return from Roasted Red Pepper Tomato Soup to Home Page