Baked Pork Chops
I thank my Father-In-Law, Nick, for this recipe for Baked Pork Chops. The flavors blend so well and served with mashed potatoes is perfect.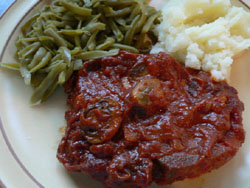 Ingredients:
8 Rib Pork Chops(with bone in)
1/2 Small Onion, Sliced
1 cup sliced mushrooms
1 1/2 Tbl Butter
12 oz can Tomato Sauce
3 cans water
1 tsp Garlic Powder
1 Tbl oregano
3/4 Tsp Cinnamon
1/2 Tsp Allspice
1/2 lemon
2 Tbl grated Romamo Cheese
1/2 cup Sweet Vermouth or sweet Red Wine
Salt and fresh ground pepper

Directions:

Saute onions and mushrooms and set aside.
In a medium sauce pan mix tomato sauce, water, cinnamon, allspice, salt, pepper, oregano, garlic powder, lemon juice, vermouth. Add onions and mushrooms. Simmer slowly for a few hours until sauce thickens.
Brown chops and then place chops in 13x9 pan. Pour sauce over to cover chops and bake at 350 degrees for 45 minutes.
Suggestion:
Serve with mashed potatoes and your favorite vegetables. I like this dish with asparagus or french cut green beans.

---

Other Meat Recipes
Beef Bourguignon
Best Meatloaf Recipes
Chow Mein Bake
Crock Pot Lamb
Dolmathes (Stuffed Grape Leaves)
Enchilada Recipes (Beef, Chicken and Cheese)
Lamb and Noodles
Meatball Recipes
Pastichio (Greek Lasagna)
Roast Beef and Pot Roast Recipes


---
Return from Baked Pork Chops to Meat Recipes

Return to Home Page Cooking Recipes Collection