Chow Mein Bake

Just 20 minutes to assemble this delicious easy Chow Mein Bake dinner.
While it's baking prepare a salad and set the table. Then sit and enjoy a little rest until it has finished baking. A variation from beef you can make Chicken Chow Mein. It's easy to substitute with a couple cups chopped precooked chicken.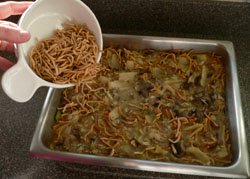 Ingredients:
1 lb lean ground beef
1 large onion, chopped fine
1 cup celery, diced fine
1 can cream of chicken soup
1 can cream of mushroom soup
1 1/2 cups warm water
1 cup brown rice, uncooked
1/4 cup soy sauce
3 Tbl Molasses
1 cup sliced fresh mushrooms
8 oz can bamboo shoots, sliced
8 oz water chestnuts, sliced
1 pkg or can of chow mein noodles, split in half
salt and pepper to taste

Directions:
In a medium sauce pan brown meat, add celery and onion and continue to brown. Add soups rinsing cans of soup with warm water as you add the water.
Put meat mixture into a deep 13x9 pan, mix in remaining ingredients. Mix in 1/2 of the chow mein noodles.
Bake 1 hour at 300 degrees. Sprinkle the rest of the chow mein noodles on top and bake 15 minutes more.
Suggested side:
Serve with Sunflower Coleslaw Salad
---


Other Meat Recipes:
Baked Pork Chops
Beef Bourguignon
Best Meatloaf Recipes
Crock Pot Lamb
Dolmathes (Stuffed Grape Leaves)
Enchilada Recipes (Beef, Chicken and Cheese)
Lamb and Noodles
Meatball Recipes
Pastichio (Greek Lasagna)
Roast Beef and Pot Roast Recipes
---
Return from Chow Mein Bake to Meat Recipes

Return to Home Page Cooking Recipes Collection