Pastichio

This is Greek cooking at it's best.
Pastichio is a well known Greek recipe used much when entertaining large groups such as a baptism, holiday meal or dinner party.
What makes this dish so perfect for a larger group is that it can be made ahead of time and kept warm. Or even made a day in advance and just reheated. It is so convenient when cooking several foods as your oven is free to prepare other dishes that must be cooked just before serving.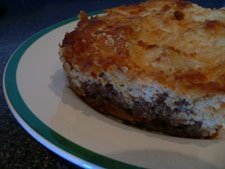 Meat Sauce Ingredients:
2 1/2 lbs ground chuck
1 large onion, chopped fine
1 1/2 tsp salt
1/2 tsp pepper
2 cloves garlic, pressed
1 16 oz can tomato sauce
3/4 cup sweet red wine
1/2 tsp garlic powder
4 Tbl butter
1/2 tsp cinnamon
1/4 tsp allspice
1/4 tsp nutmeg

Pasta Ingredients:
1 lb Mostaccioli (La Rosa #84 is the best if you can find it)
1/4 lb butter, melted
1 cup grated Kefalotyri cheese or fresh grated Romano
5 egg whites, slightly beaten

Custard Sauce:
1/4 lb butter
7 Tbl Flour
4 cups Milk
5 egg yolks, well beaten
1 tsp salt
1/4 tsp pepper
1/4 tsp nutmeg
1/2 cup grated Kefalotyri or Romano Cheese

Between layers and Topping:
1 3/4 cups grated Kefalotyri or Romano cheese
2 Tbl melted butter


Directions:
Meat Sauce: Cook onion in a little water until water is absorbed. Add butter and saute onion and garlic, add meat and continue to saute breaking up meat as it browns. Drain out any excess fat, but leaving a little in the pan. Add remaining ingredients for the meat sauce. Simmer for 45 minutes. Set aside.
Pasta: Cook pasta as recommended until al dente, drain in colander. Rinse the pot out with hot water. Using the same pot, melt the butter and return the pasta to the pan. Stir to coat past with butter, add egg whites and cheese and stir again until well mixed. Set aside.
Custard Sauce: Melt butter, add flour to form a smooth paste. Heat milk to boiling point, along with salt, pepper and nutmeg. Add butter flour mixture slowly to milk, stirring constantly until milk thickens. Add beaten egg yolks to milk. This will immediately thicken more. Add cheese and continue mixing until blended.
Assembly of the Pastichio:
Preheat your oven now to 375°F Using a 13 x 10 baking pan assemble the layers as follows:
half the pasta
1/2 cup grated cheese
all of the meat
2 ladles of sauce
Remainder of pasta
1/2 cup grated cheese
Remainder of sauce
3/4 cup grated cheese
Pour over top 2 Tbl melted butter and bake at 375 degrees for 1 hour

Tips: Wine used in this Greek Pastichio recipe is to be added immediately after the browning of the meat to simmer along with all the other ingredients for the entire cooking process. It is commonly thought by many that wine should be added at the end of the cooking, but Mom taught that when cooking Greek recipes to add wine right away.
Always allow time to prepare Greek recipes. To me fast Greek food does not fit with traditional Greek recipes. The food I know takes time and loving care to prepare. If you take short cuts it will not turn out as well as you would be expecting. Then you have wasted time and money preparing a dish.
---

Other Greek Recipes
Baklava Dessert
Dolmathes (Stuffed Grape Leaves)
Lamb and Noodles
Meatball Recipes
Spanakopita

Other Meat Recipes
Baked Pork Chops
Beef Bourguignon
Best Meatloaf Recipes (Italian, Mexican and Spicy Hot Turkey)
Chow Mein Bake
Crock Pot Lamb
Enchilada Recipes (Beef, Chicken and Cheese)
Roast Beef and Pot Roast Recipes
---
Return from Pastichio to Meat Recipes

Return from Pastichio to Cooking Recipes Collection