Creamed Chicken Recipe
With this creamed chicken recipe, you have the base to made so many different chicken recipes. Just a few suggestion are to add some chopped up vegetables and put into a crust for chicken pot pie recipe.
Another is to add some ricotta and Parmesan cheese to the creamed chicken and serve over flat egg noodles for a delicious Chicken Alfredo recipe.
I don't know about you but after having a big Thanksgiving Dinner, I look forward to making some easy meals with the leftovers and these are some of my favorites.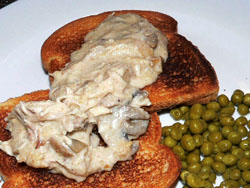 Ingredients:
3 tbl butter
3 tbl four
2 cups milk
1/2 cup sour cream
1 tsp salt
1/2 tsp pepper
1 tsp celery salt
1 medium onion, chopped
5 roasted garlic gloves
l - 10 oz can mushrooms
4 cups cooked chicken pieces
1 small jar chopped pimento (optional)

Directions:
In medium fry pan, saute onion, stir in garlic and mushrooms and saute another 2 minutes to heat through. Set aside.
In a one quart pot, melt butter. Stir in flour and cook until bubbly. Add milk, salt, pepper and celery salt. Continue to stir till it thickens.
Add chicken and onion mixture to pot. Heat through, then stir in the sour cream.
Serve over toast or toasted hard roll.
---

Other Poultry Recipes
BBQ Chicken Wings
Buffalo Chicken Wings Appetizer
Chicken and Rice Dish
Chicken Strips Appetizer
Grilled Chicken Breast
Hot Chicken Dip Appetizer
Oven Roasted Chicken

---
Return from Creamed Chicken Recipes to Poultry Recipes

Return to Home Page Cooking Recipes Collection