Grilled Chicken Breast
The hint of rosemary in the marinade for Grilled Chicken Breast is perfect. Serve this with brown long grain rice and steamed broccoli for a wonderful calorie conscious dinner.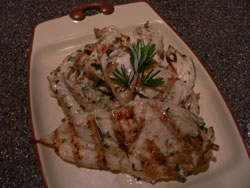 Ingredients:
3 chicken breast
1/3 cup extra virgin olive oil
1 1/2 Tbl tarragon vinegar
1 clove garlic, pressed
1 Tbl finely chopped parsley
1 twig fresh rosemary, chopped
1/2 tsp lemon juice
1/2 tsp salt
1/4 tsp ground pepper



Directions:
Pull the rosemary leaves off the twig and chop up a bit. In medium bowl combine all ingredients except the chicken and whisk thoroughly.
Poke 3 chicken breasts with a folk and place into a zipper bag, pour marinade over the chicken, close bag and keep in refrigerator for minimum of an hour for flavors to blend and chicken to pick up the flavors.
I like to do this the night before cooking so it has plenty of time to marinade. The longer the better.
Preheat grill to 375°. Place chicken directly over heat. Chicken breast cook fairly fast so keep an eye on them, turning now and then to move around the heat as breast are irregular in shape. Whole breast usually will cook in a total of 10-15 minutes. I like to cut the breast in half so they cook in even less time.

---

Other Poultry Recipes
BBQ Chicken Wings
Buffalo Chicken Wings Appetizer
Chicken and Rice Dish
Chicken Strips Appetizer
Creamed Chicken Recipies
Crispy Parmesan Chicken
Hot Chicken Dip Appetizer
Oven Roasted Chicken and Potatoes
---
Return from Grilled Chicken Breast to Poultry Recipes

Return to Home Page Cooking Recipes Collection