Crispy Parmesan Chicken
Finger foods shouldn't be just for kids. Serve this kicked-up hot appetizer of Crispy Parmesan Chicken. You can serve warm or chilled for lunches or picnics.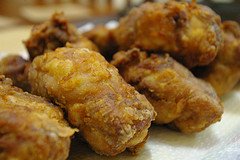 Ingredients:
1/2 cup grated Parmesan cheese, divided
1/4 cup flour
1 teaspoon salt
1/2 teaspoon black pepper
2 large eggs
1 cup Seasoned Bread Crumbs
3 pounds chicken legs, cut into drumstick and thigh pieces (about 5 drumsticks and 4 thighs)
vegetable oil for frying

Directions:

Preheat oven to 350F. Line a baking sheet with foil.
Combine half the cheese, flour, salt and pepper on a shallow plate. In a shallow bowl, beat eggs with a fork. In another shallow plate, combine remaining cheese with breadcrumbs.
Coat chicken pieces in flour mixture, dip in the eggs, coat with cheese-crumb mixture. Let sit for 10 - 15 minutes.
Heat about 1/2" oil in large skillet over medium heat. Fry chicken for about 3 minutes per side. Drain on paper towels and place on prepared baking sheet. Bake for 30 to 35 minutes until chicken is cooked through.
Serving Suggestion:Good as appetizers as is, or pair this chicken recipe with a side of mash potatoes and salad or vegetable to make a complete meal.
---

Other Chicken Recipes
BBQ Chicken Wings
Buffalo Chicken Wings
Chicken Strips
Chicken Tortilla Soup Recipe
Creamed Chicken Recipe
Hot Chicken Dip
Oven Roasted Chicken
---
Return from Crispy Parmesan Chicken to Poultry Recipes

Return to Home Page Cooking Recipes Collection