Zucchini Hash Browns
I love to serve Zucchini Hash browns for breakfast. I make up a batch ahead of time and just warm in the microwave as needed. Nice breakfast food for on the go.


If you have a garden and have planted zucchini you know how abundant they are in the late summer. I shred and bag 2 cup size portions and freeze. So nice to have on hand throughout the year for making your favorite zucchini dishes.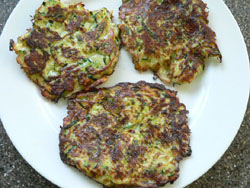 Ingredients:
4 cups shredded zucchini
1 tsp salt
2 medium eggs, beaten
1/2 cup grated or shredded cheese
1/4 cup grated or minced onion
1 tsp garlic powder
1 dash black pepper
1 dash cayenne pepper
1 tbsp oil, just enough to coat pan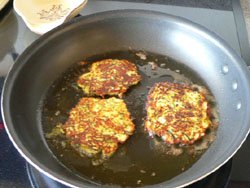 Directions: Mix zucchini with salt. Let stand 30 minutes. Squeeze or press to get out moisture. Mix together all remaining ingredients. Heat oil in skillet. Drop by spoonfuls (about 1/4 to a 1/2 cup) into hot skillet, flatten to about a baseball size. After browning on one side flip and brown the other side. Place on paper towel to absorb oil.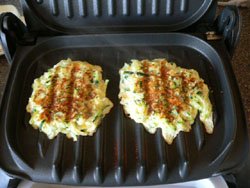 Make it Lite!
Try using a George Foreman Grill in 1/2 cup portions. Cook for about 5-7 minutes or until golden brown. Eliminates the oil.
Another suggestion to make it Lite, substitute the whole egg with with egg whites to lower calorie, cholesterol, and fat counts. Egg beaters work as a great substitute.
---

Other Vegetable Recipes
Roasted Garlic
Kale Chips
Oven Roasted Peppers
Vegetable Rice Recipe
---
Return from Zucchini Hash Browns to Vegetables

Return to Home Page Cooking Recipes Collection